23 Beauty Hacks You'll Wish You'd Known Sooner
#13 Accentuate your cupid's bow with a shimmery highlighter
Highlight your cupid's bow by using a shimmery highlighter, your cupid's bow is the indent of your upper lip.
#14 Apply your blush in the right spot every time
Using a pen roll it until it falls under your cheekbone, and get to brushing on that blush. Voila, perfect application every time.
#15 Apply perfume the right way
Most of us spray perfume either on our clothes or just randomly all over, at first you will smell incredible but in a very short time most of it wears off. In order to make the smell of your perfume last longer, apply it to your pulse points.
#16 Exfoliate your skin with brown sugar
Get that soft beautiful skin by using nature's exfoliant, brown sugar
#17 Use coconut oil for instantly soft and smooth skin
Get soft and smooth skin using coconut oil, it works better than other moisturizer and skin conditioners because it has fatty acids that rejuvenate your skin. It can also be used as a makeup remover just apply it on your skin and work it in with a soft pad.
#18 Bobby pin 101
There is a right way of using a bobby pin
#19 Use translucent powder for plump lashes
Coat your lashes with some translucent powder before applying mascara to help plump them up, in a budget friendly manner.
#20 Rejuvenate your mascara
If your mascara isn't applying smoothly you might need to rejuvenate it, by applying a little saline in the tube you can stretch out the life of your mascara little longer.
#21 Curl your lashes faster
Think of a curling iron for your lashes, by heating up your lash curler you will get a better result. Remember to let it cool down just a little bit before using it on your lashes.
#22 No more upper eye mascara smudges
Just place a spoon on your upper eye lid when applying mascara to avoid getting smudges.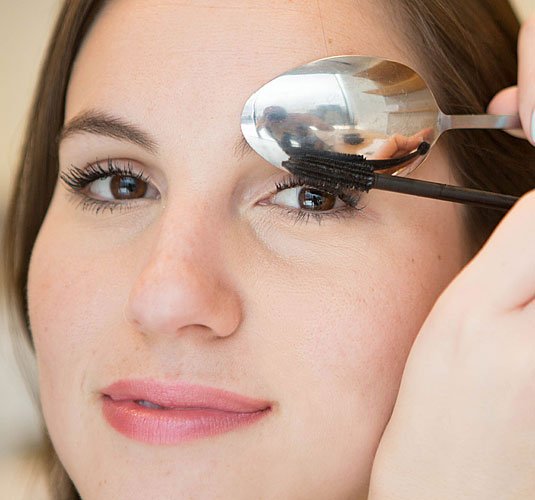 #23 Brighten up those stained nails
Just soak your nails in a some lemon juice and watch them brighten up