Celebrities' Picks of Attires In Month of March
The month of February was filled with glitz and glamour of fashion world as it ended with several award shows and fashion weeks on its tail and that is why March is comparatively and slightly toned down with casual attires.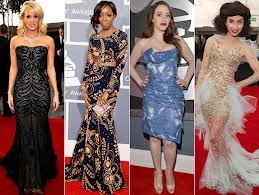 While the month of February brought celebrities clad in designer formal dresses on red carpets and specially-made designer clothes for the occasion of award ceremonies,
there the current month of March gave us the glimpse of much more casual bunch such as Diane Kruger giving a fresh-up look in denim and dungarees; and Karlie Kloss looking stunning in a bomber jacket teamed up with skinny hot jeans. Olivia Wilde was also caught giving a casual but stylish vibe in a wide-brimmed hat and striped coat. Spring was never out of mind by seeing these celebs in lively, cheerful and stylish outfits.
Designers outfits with a fresh, stylish and glamorous look were also never out of sight in the current month of March. Those who horsed the latest trend did not go for anything less than high-octane and enchanting glamour. Jennifer Connelly was seen in the premiere of film Noah, attired in Givenchy Couture archive classified for the Mexico City, the particular dress was basically from the collection of winter/fall 2009. Emma Watson was as usual stunning with her a J. Mendel monochrome jumpsuit in the same event. Felicity Jones was giving a stylish notch in Breath in screening in her classy black trousers. Scarlett Johansson, however, kept up with the style by showing up in the premiere of The Winter Soldier clad in the Michael Kors red suit which she has chosen to wear on the premiere of Captain America as well.
Another celebrity, Diana Agron was seen in New York City during White Glove Gone Wild Gala, draped in long, floor-length lavish gown along with Emmy Rossum and Karlie Kloss who were attending the Gala in similar dazzling and floor touching gowns.
So, overall, march proved to be the house of casual and stylish attires worn by our trendsetters celebrities with a pinch of glamorous designer gowns for seasoning up the month to a very spicy and freshening taste.