1. Golden Gate Bridge, San Fransisco
The strength and beauty of this landmark bridge is something to witness for yourself. It is built to withstand gale-force winds and earthquakes, and it dominates the San Fransico Skyline with a graceful charm.
Top Tip: The Bridge Pavilion provides historical information and displays the scientific background and story of the bridge.
2. Las Vegas Sign, Nevada
Any journey to the strip would be incomplete without a snap in front of the kitschy 50's stylised sign. It welcomes all visitors to embark on their adventure through the city's hedonistic street fronts. When you first see the sign, you will certainly get butterflies.
Top Tip: Many people will be queuing to get a photo directly in front of the sign, but just move to the right slightly for a photo that is just as good, without the queuing!
3. Thomas Jefferson Memorial, Washington, D.C.
Washington, D.C. is not without its fair volume of American Monuments, but one that you should not miss on your visit there is this one. Immediately recognisable, simultaneously graceful and commanding, the Thomas Jefferson Memorial is an icon of one of the founding fathers of the U.S. and the author of the Declaration of Independence.
Top Tip: D.C's Cherry Blossom season provides an even more beautiful view.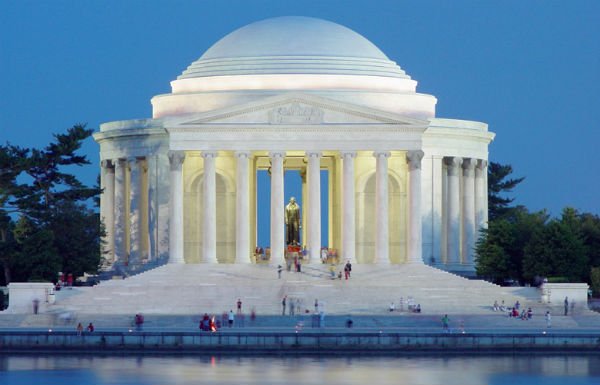 4. Millennium Park, Chicago
Chicago can certainly get warm during the summer, cool off at Millennium Park – where giant images of faces spray a refreshing fountain from their mouths. The on-of-a-kind Jay Pritzker Pavillion hosts several not to miss music festivals.
Top Tip: Guided tours are free. Investigate the gorgeous Lurie Garden, an oasis in the urban environment to explore Chicago's development into a strong and bold city.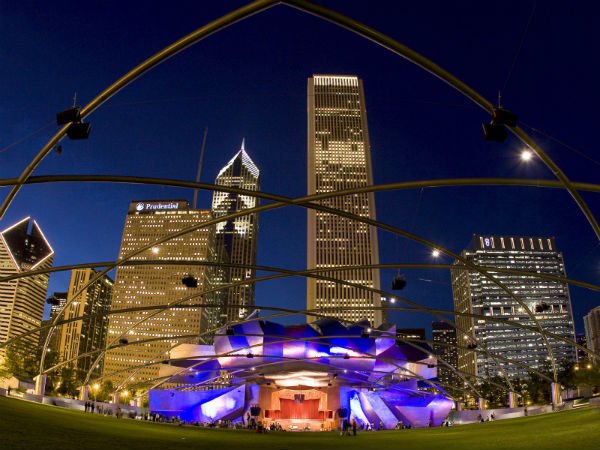 5. Hollywood Sign, Los Angeles
Hollywood is synonomous with LA. It is hard to find an American sign that is so powerful entrenched in our subconscious. Standing at 50 feet high, this extravagant sign has loomed over Hollywood since 1923 and has been feature in innumerable films and TV shows.
 Top Tip: Be careful driving about, there is a tendency for drivers to come around the blind corners very quick.
6. Grand Central Station, New York City
The grand East 42nd commuters rushing on their busy work days. Grand Central Station is one of the world's largest, more frequented, and most aesthetically pleasing stations. Sheer marble supports an arched blue ceiling that shines with a fiber optic schematic of the constellations.
 Top Tip: The Oyster Bar and Restaurant downstairs secret "whispering gallery" provides a interesting acoustic adventure!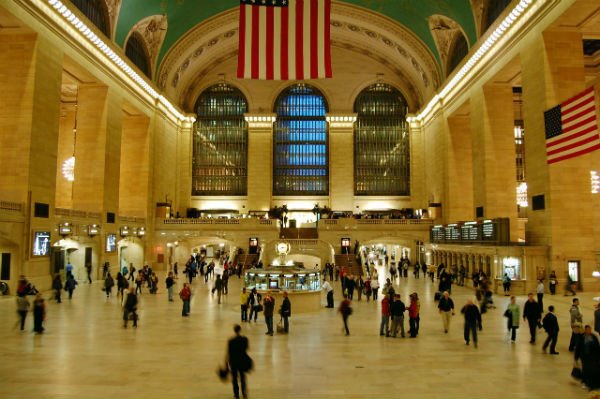 7. Portland Head Light, Maine
In 1790 George Washington first commissioned the Portland Head Light to guide ships to land. Edward Hoppers famous painting in 1927 makes this another beautiful iconic landmark to visit on the East coast.
 Top Tip: "A Bite Out Of Maine" provides a great lobster roll to fill empty stomachs.
8. Grand Tetons, Wyoming
The giant, snowcapped peaks of the Grand Tetons stick valiantly from the gorgeous green fields. Elk, Bears and bald eagles grace this natural beauty and certainly makes for an awe-inspiring and unforgettable place to visit.
 Top Tip: The history of homesteading can be discovered by heading over to the old-timey barns and ranch buildings at Mormon Row.
9. Philadelphia City Hall, Pennsylvania
An imposing 37-feet tall bronze statue of William Penn gazes down at the patriotic streets of Philadelphia from the roof of what was, until 1987, Philly's tallest building. The tallest masonry load bearing structure in the world, and the biggest city hall in the entire country it sits at the very center of one of the most historical cities in America.
 Top Tip: Sit in on one of the often heated City Council meetings. They are held every Thursday at 10:00.
10. Grand Prismatic Spring, Yellowstone
From a bird's eye view the spring looks like a huge aquamarine geode buried in the Earth. It is the biggest hot spring in the U.S and is the third largest in the whole world; with an impressive diameter of 370 feet and depth of 121 feet. Bacteria actually give this great landmark its curious orange and yellow rings.
 Top Tip: For a better view of the spring, get up "Fairy Falls" trail. Has great positions for photo opportunities there!