If any of you guys saw Jimmy Kimmel Live! the other night (and how could you not because that Scandal telenovela was amazing!), then you probably heard him making fun of all the Los Angeles meteorologists who sounded like wimps as they predicted a severe rainstorm. Well, those meteorologists weren't joking around because during the Women in Film pre-Oscar party in West Hollywood last night, it sounded like the roof was going to blow off the swanky Fig & Olive restaurant with hurricane-force rains and wind. And that begins Oscar weekend 2014!
Lupita Nyong'o continued her mission to change up her hairstyle at every red carpet event with a retro-inspired look to go along with her blue cutout tweed sheath dress. She brought her mom, Dorothy, to the event, sponsored by MAC Cosmetics, while WIF co-host Helen Mirren came solo.
WIF president Cathy Schulman, Oscar nominee Lupita Nyong'o, Oscar nominee June Squibb, and WIF cohost Helen Mirren. The event was sponsored by Perrier-Jouet, MAC Cosmetics, and MaxMara. All the nominees received a MAC Cosmetics gift box that contained products curated by Oscar-nominated makeup artist Joel Harlow used on the film The Lone Ranger.
I'm going to create a Red Carpet Superstar Award this year and give it to 84-years-young Nebraska actress June Squibb. She has walked every red carpet and talked to every journalist, even when she had a slight case of laryngitis earlier this month. She's been one of the only nominees to do that, and she could not be more delightful. Still, June admitted that "part of me will certainly be glad that Sunday is over." But don't mistake that for not enjoying the last two months. "I've actually turned down some work because of all the awards-season commitments, but I just really wanted to experience it. I've had a ball, I truly have," she reflected. "I've had a wonderful time."
Hart of Dixie's Jaime King arrived looking stunning in a Dior shorts-ensemble. She revealed to me that she's really rooting for Amy Adams come Sunday night. "I've known her for so long, and she's just so exquisite in everything she does."
Later in the night, once I found a rowboat (kidding, but I should seriously look into it for today—there's supposed to be a downpour while the Independent Spirit Awards are happening), I made my way over to the Fifth Annual QVC Presents Red Carpet Style Party sponsored by QVC and doMAIN at the Four Seasons Los Angeles. Jamie Lynn Sigler, Nicole Richie, Krysten Ritter, Elisabeth Rohm, Kendra Wilkinson, and Hank Baskett were just some of the stars who braved the nasty weather to attend. I caught up with petite powerhouse Aubrey Peeples (Layla on Nashville), who is in town for the week. Last time I saw Aubrey, we were having a blast at the CMAs in Nashville and having the best time ever with Chris Carmack.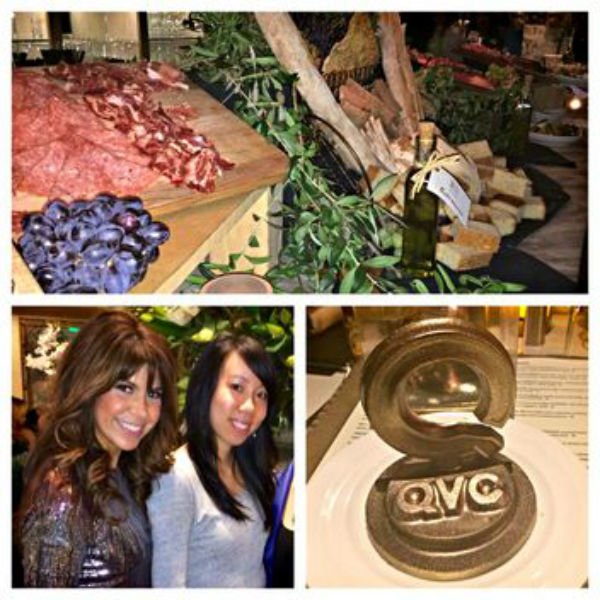 Top: The incredible appetizer spread at Fig & Olive for the Seventh Annual Women in Film Pre-Oscar cocktail party. Bottom left: People's Melody Chiu and me at the QVC soiree. Bottom right: Yes, that is an edible chocolate QVC paperweight.
What's Next: Today is the Independent Spirit Awards (unless there's a tsunami), which is one of my favorite awards shows. It's held in a tent on the Santa Monica beach, and celebs are casual and relaxed. The show will be broadcast exclusively on IFC at 10 P.M. ET/PT later tonight and is hosted by Patton Oswalt. The guest list (and, yes, they all come) is amazing: Brad Pitt, Cate Blanchett, Matthew McConaughey, Reese Witherspoon, Andy Samberg, Paula Patton, and others. It's also a chance for Megan and me to finally breathe a sigh of relief should the exceptional Fruitvale Station take home some hardware.
The awards show also features one of the most amazing gifting lounges that celebs will get a chance to visit. We're talking a lifetime service of TIVO, Murad's skin care collection, a Crunch gym membership, New Balance Fresh Foam 980 breakthrough sneakers, a year's supply of Dark Horse Wine, a flying camera from DJI Phantom 2 Vision, to-die-for silk linens from Manito, and a limited-edition crystal-embellished NuBra Ultimate from Fashion Forms.
Check back Sunday morning for the full report on what went on behind the scenes and on the red carpet, and Sunday evening I'll be with our video crew at the Elton John Oscar Party with Ed Sheeran, the cast of Glee, and more stars!