The most daring outfit ever modelled  by Abbey Clancy at the Fashion for the Brave in London!
That was just too much astonishing, eh… shocking would be the exact word for the dress. This fashion event was organized to support brave British troops on war. It was just too much revealing than anyone can imagine. Though Abbey Clancy doesn't get under a little more than essential fabric at Strictly's dance floor but this time it was an unusual and awkward thing to witness. It looked like Abbey Clancy has left her under wears at home. She was not so comfortable with her over revealing costume as she was trying hard to not to show more than she planned.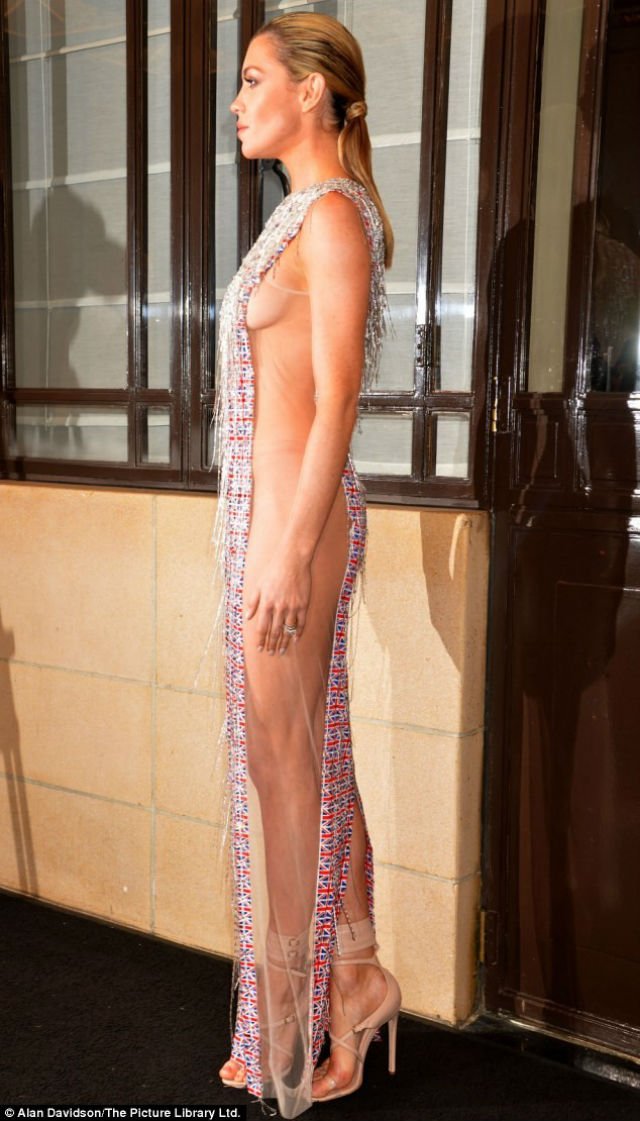 Her outfit was designed by her Strictly's dancing fellow contestant, Julian Mc Donald specially for the occasion of Fashion for the Brave.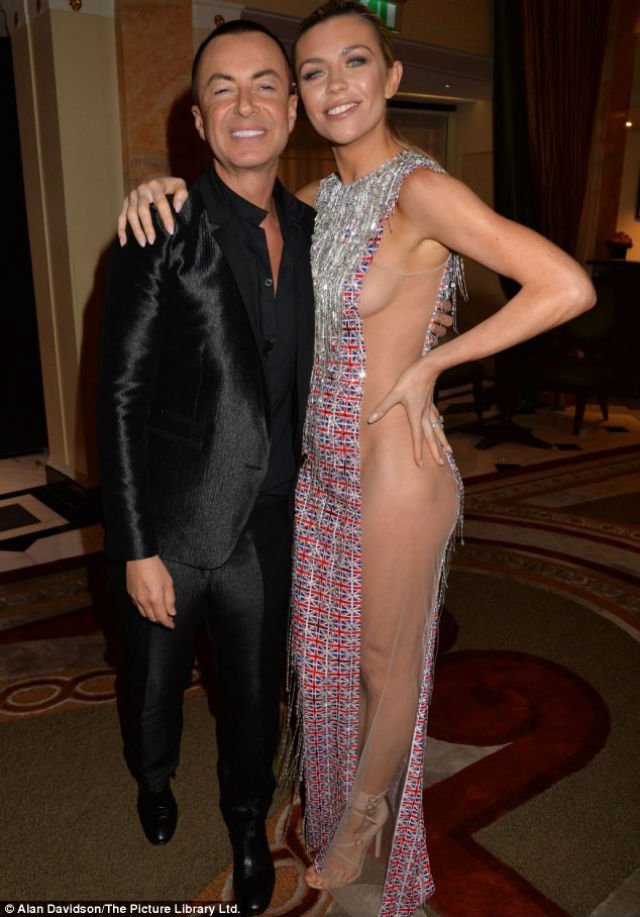 The costume was made with see through sides and only essential body parts covered with sequinned front and back which was decorated with small union flags. When Abbey entered, heads and media turned towards her because there was nothing too bold at the even like Abbey. Possibly it had been the toughest decision for the Abbey, 27 to model this dress. She has been looking quite conscious during the event as she had to hold tight to the back of dress or else it will reveal more than she expected.
The model and dancer Abbey Clancy chose long heels made of transparent stuff and nude lip shade to go with her outfit.
Abbey Clancy was born in Liverpool. She and her dancing partner Aljaz Skorjanec are the hot favourite of Strictly's dance floor's audience. Both of them share a perfect chemistry to mesmerise the audience. Abbey is quite bold and confident but this outfit made her a bit nervous as she was holding her dress tight while passing through cameras around to show as much as she planned only.
She said: 'I was just gutted at the thought of it all being over because I'm not ready for it to end yet. I'm having the best time of my life.
'I've never done any dance training but Aljaz is just the most amazing teacher so I'm very lucky.'
Abbey added about her performance: 'I was upset more than anything. You think getting high scores from the judges would mean you're safe.
'It just goes to show that you're not and to go up against Rachel who has been my best friend on the program was just horrendous. I hated it, it was really horrible.
'I couldn't help feeling a bit low the next day and I was wondering what I had done wrong.