Nothing frames your face and changes your look like a well-groomed pair of eyebrows. Even if you've overindulged your tweezing tendencies, you can totally fake it. Jared Bailey, resident brow expert at Benefit Cosmetics, told us how to make your eyebrows work for you.
Need some brow-spiration in the meantime? Click through and see if you can guess which celebs these famous arches belong to.
Guess whose bold eyebrows these are:

A) Cara Delevingne
B) Lily Collins
C) Sofia Vergara
Lily Collins' Bold Eyebrows

"Big brows weren't the look in L.A., where I grew up. But my mom instilled in me that it's the quirky things that make you beautiful," the actress told us in 2012.
Guess whose strong eyebrows these are:

A) Keira Knightley
B) Katy Perry
C) Natalie Portman
Keira Knightley's Strong Brows

"Keeping brows full and lush is one of the easiest tricks a girl can use to take years off her look," says Bailey. "Trimming the brow is always essential to achieve a perfectly polished and put-together appearance. Start by brushing the hair in the direction of its growth, and trim only the tiny tips that extend more than a few centimeters beyond the natural brow line. Then add a bit of a tinted brow gel like Benefit Speed Brow to tame any unruly hairs."
Guess whose sleek brows these are:

A) Kerry Washington
B) Beyoncé
C) Jourdan Dunn
Kerry Washington's Sleek Brows

If your brows could use a bit more oomph, Bailey suggests getting a professional brow tint. "It's one of the quickest ways to add bit of dimension and depth to any brow, especially ones that are fair or barely there."
Guess whose iconic brows these are:

A) Kim Kardashian
B) Brooke Shields
C) Cara Delevingne
Cara Delevingne's Iconic Brows

Cara's brows are truly natural and easy to take care of. "You just don't pluck them. It's really simple," she said in Interview magazine. "I mean, I do, obviously, a little bit, because otherwise I'd have a monobrow, but it's just about keeping them wild, keeping them free and woolly."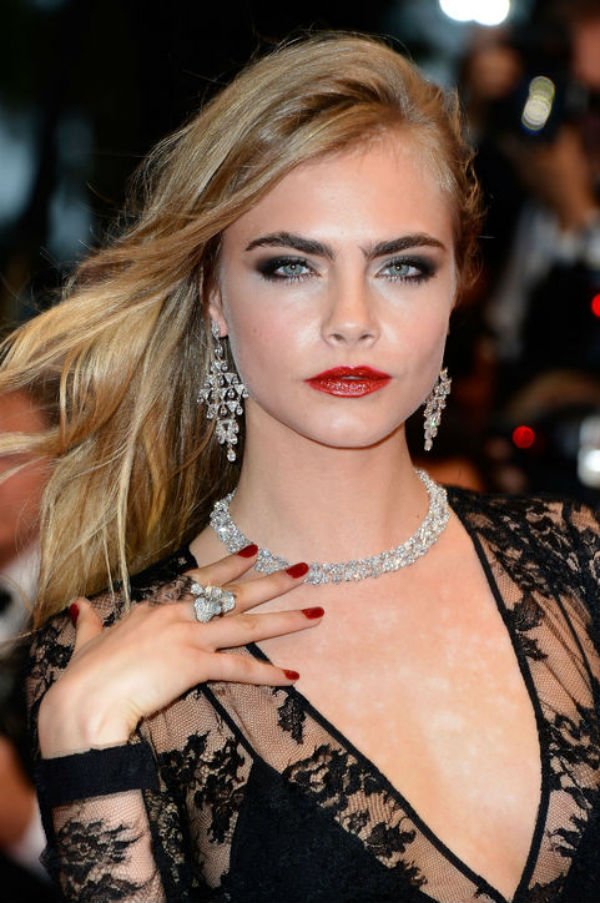 Guess whose sophisticated brows these are:

A) Natalie Portman
B) Rooney Mara
C) Kate Mara
Natalie Portman's Sophisticated Brows

Over the years eyebrow experts have dubbed Natalie's look "the modern Audrey Hepburn brow." They're straight and just a tiny bit tapered at the ends.
Guess whose model brows these are:

A) Jourdan Dunn
B) Naomi Campbell
C) Joan Smalls
Jourdan Dunn's Model Brows

"I love enhancing my brows, and the Rimmel Professional Eyebrow Pencil is incredible," Jourdan said at London Fashion Week last spring.
Guess whose sculpted brows these are:

A) Beyoncé
B) Rihanna
C) Ciara
Beyoncé's Sculpted Brows

To add more dimension to your arch, Bailey says, "finish the look with a subtle brow highlighter like Benefit Highbrow to add a bit of extra lift."
Guess whose impeccable brows these are:

A) Julianne Hough
B) Taylor Swift
C) Blake Lively
Julianne Hough's Impeccable Brows

According to her makeup artist Spencer Barnes, one of Julianne's favorite brow products is Votre Vu Arch de Triumphe Brow Definer.
Guess whose natural-looking brows these are:

A) Sandra Bullock
B) Jennifer Garner
C) Julia Roberts
Sandra Bullock's Natural-Looking Brows

Natural brows still need a bit of shaping. Bailey suggests seeing a pro to make a shape for you if you're nervous to do it yourself. You can also use a tool like Benefit Brow Map. "After identifying each point (the start, the arch, and the end), fill in the brow using a natural brow filler," he says. "Remove the hairs that fall below the shape you've just created. This will keep you from going too far into the natural brow shape and over over-tweezing."