Saturday night was the last big awards show, the Costume Designer's Guild Awards, until the big kahuna of them all (ahem, that would be the Oscars) this Sunday night. But before we get to the Academy Awards, there's a ton of exciting fashion and show scoop to tell you from the 16th Annual CDGAs!
Scandal's costume designer, Lyn Paolo (nominated for Outstanding Contemporary Television Series) revealed that we're going to see a lot of changes to Olivia Pope's wardrobe these next eight episodes. "There might be some darker colors coming," she teased. "Fortunately what fashion is doing right now is great for us because there's all these swing coats and the pleated backs to all these dresses. Stella McCartney and Dior have been go-to amazing designers for any lady who may be pregnant." She also added that we'll be "seeing some new Prada purses [to mask Kerry's baby bump]! There's also these amazing wedge shoes now for Olivia, so when Kerry has to run she doesn't have to be in heels because that's a safety concern."
Dan Bucatinsky (James Novak) interrupted our interview to give Paolo a hug and kiss on the cheek. This cast has such admiration and love for the crew, evidenced by the fact that they ALL showed up to support Paolo even though only Kerry Washington and Tony Goldwyn were tapped to present. Later in the night, I stopped by the Scandal table to say hi to one of my favorites, Bellamy Young (Mellie), who was looking absolutely stunning in red. I can't wait to see what's in store for Thursday's premiere! Bucatinsky told me the cast already got together over the weekend to watch this week's episode as prep work for when they live-tweet.
And before I let Lyn Paolo out of my sight, I needed to know what has been her favorite outfit of Olivia Pope's so far. "I really love the white Burberry trench coat. I literally had the set painted a different color because of it! Mellie was in purple, and Fitz is sitting on the sofa in between those two women. I just love that scene."
And before we concluded our interview, Paolo made sure to tell me how much she loves Glamour and "all of your support." Back at you!
Salvadore Perez, the costume designer for The Mindy Project and also president of the CDGA, was the man responsible for the stunning blue mermaid gown that Mindy Kaling wore down the carpet.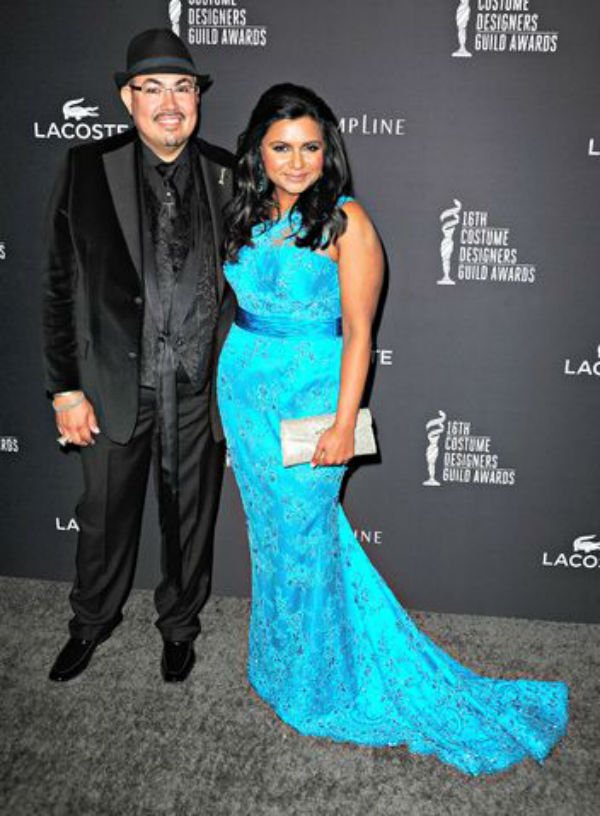 "I designed and made Mindy's dress tonight," said the talented Perez. "It's pretty spectacular and she loved it so much she canceled her Oscar gown [for the parties] and now I'm making it!"
In fact, Perez shops for Mindy Lahiri every day. "All day long," he laughed. "If I'm not at the stores, I'm online. Mindy has never repeated an outfit. When we did our first episode back, she had 27 changes. Just this last episode that we did, she has 11 changes. We're not slowing down before the finale, we're speeding up to it." Speaking of, I spent last week on the set of The Mindy Project and got to see the first three episodes back. Guys, get ready! It's better than ever (which I didn't think possible), and I can't wait to share all the behind-the-scenes happenings with you.
Also at the CDGAs, I caught up with Breaking Bad costume designer Jennifer Bryan (nominated for Outstanding Contemporary Television Series; the honor ended up going to House of Cards' Tom Broecker), who admitted that her biggest challenge on the show came during season four when "I had to redesign the yellow cook suits. In the fourth season, the lab blew up. Those cook suits went away, so I had to find something that didn't make noise 'cause the sound department would go crazy if that happened. I called all these technical companies for a synthetic material that didn't make noise, and I finally found it. It originated from some rain suits from bikers and I cut them, stitched them, and put them together and we had the new cook suits. It was such a process."
I've been pretty vocal about the fact that American Hustle was not my favorite movie, but I loved the hair and costumes. So when I met up with Hustle costume director Michael Wilkinson (nominee for Excellence in Period Film), he revealed to me that his favorite costume in the film is Amy Adam's silver sequined dress that she wears at the casino party.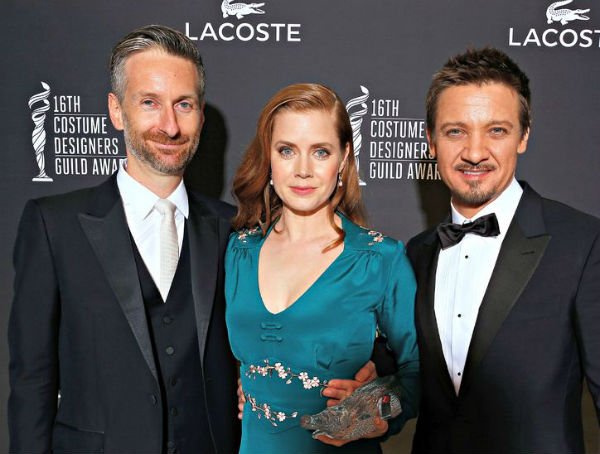 The biggest shocker? When Wilkinson revealed to me that he didn't use a single piece of double-sided tape on Amy's super low-cut blouses. "We were period-correct," he proudly stated. "We used Amy's incredible poise. [Laughs] She got into amazing shape. Everything behaved themselves, and she avoided windy situations. And we had a great editor who really looked after her."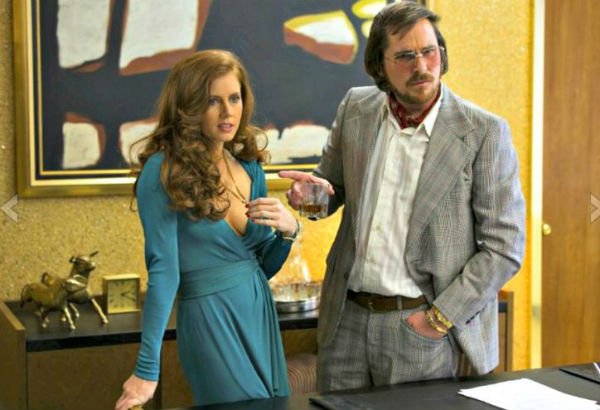 Oh, and if you go back and watch the film, be sure to pay close attention to the cleaner's scene with Amy and Christian Bale near the beginning. "You'll notice that one of the tags on the costumes says 'Property of Western Costume.' It's the rental label! That's a little insider knowledge [that wasn't supposed to be there]."
And here's one last interesting tidbit from Wilkinson: "When I was researching Bradley's outfit for the dance club scene, I actually got a hold of John Travolta's white suit from Saturday Night Fever. It should be in a museum, but it wasn't! And this one had red wine stains all over it. But we decided to do something different with Bradley because we didn't want to be so cliched, so that's how we ended up in the chocolate brown three-piece suit." Who knew?!