Just when you think spring is finally here, the weather gods pull another fast one on us. Looks like you'll have to keep your cold weather gear around for a bit longer, but there are chic and easy ways to mix in those spring pieces you're dying to wear. So let's take a look at what the jet-setters over in Paris and Istanbul have to show us.
Yu Lee makes the most out of her winter camel coat by Ter et Bantine by layering it over a spring-y white sweater by American Vintage and an abstract printed H&M midi-skirt. Her accessories are a mix of seasons, too: Kurt Geiger ankle booties held-over from fall and a Chanel runway-esque giant pearl collar for a springtime touch.
Blogger Sofie Valkiers embodies spring cheer in a pastel yellow cocoon coat worn over a black and white checked shirt dress, both by Louis Vuitton. Her pastel blue bag and gingham platform sandals make us want to just soak up the sun somewhere warm!
Perwin Aydin effortlessly mixes high low and transitional seasons by layering a long gray blazer vest by Zara over an indigo turtleneck from Maschka and mixing in bright white pants and platform printed Mary Janes by Rochas. Props for the chic high-low mix.
This entire look just screams springtime, but still keeps Billur Saatci warm in temperamental weather. Her pale lilac coat layered over a crisp white shirt and floral trousers make for a cheery ensemble—made even more interesting with two-toned flats by Chloé and gold-detailed bag by Alexander Wang.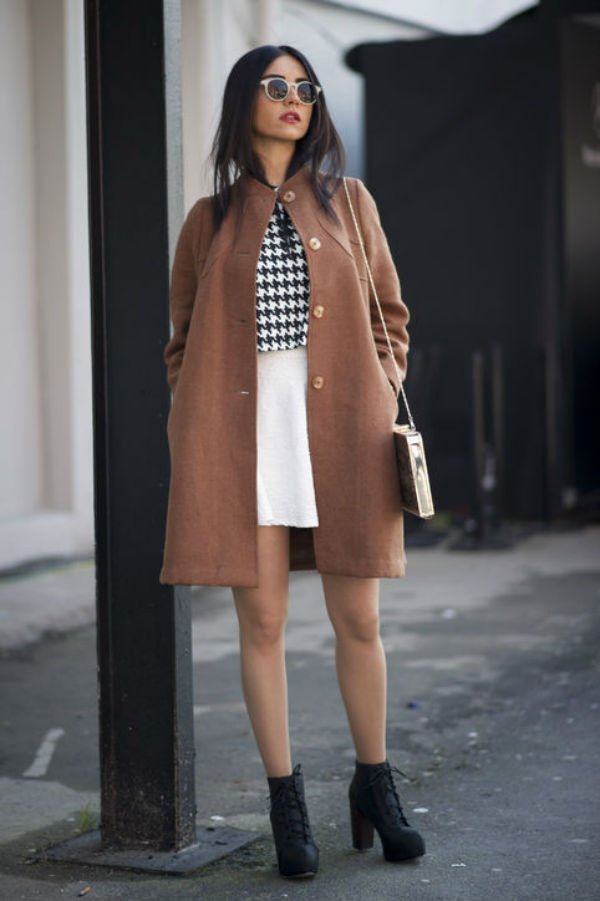 Guelcin Elvan Bozdag shows us another way to wear a winter coat at the beginning of spring: she layers her wooly Vakko swing coat over a houndstooth top from Topshop and white miniskirt from H&M. See ya, tights!