Destiny Hope Cyrus, or as we all know her, Miley Cyrus was born on November 23, 1992 is a well-known American actress and recording artist. Cyrus, the daughter of great country singer Billy Ray Cyrus, gained fame as a teen idol after being cast in the famous Disney channel television series Hannah Montana, in which she portrayed the main character of Miley Stewart. This "most charted teenager" broke out of the Disney celebrity shell and emerged as an adult image and a mainstream pop sound in 2009. This marked the beginning of a great journey of a junior, adorable Disney artist turning into a giant of the pop world. She shook the world with her phenomenal albums like Best of both worlds, Party in the USA and made everybody's mouth pop out with her astonishing sense of style.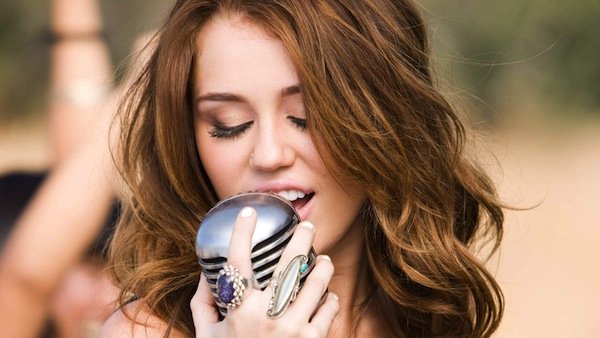 This pop sensation does have a habit of delivering the unexpected and that's exactly what she did at her latest appearance at VMA 2013. Although Cyrus didn't take home a single award at Sunday's MTV Video Music Awards ceremony-concert-burlesque-show in Brooklyn. Cyrus, however, earn scads of condemnation for her scantily-clad performance of "Blurred Lines" with Robin Thicke, against whom she salaciously rubbed her rear end repeatedly on national television.  The Parents Television Council issued a press release saying that her performance "substituted talent with sex." But now that the dust has settled and the numbers are in, one thing is clear: Miley Cyrus was the biggest winner of the VMAs, at least from a commercial perspective. And unlike the old line "any publicity is good publicity," her success can be quantified.
1. WHEN SHE CAME OUT AND STARTLED THE GIANT BEAR- Miley Cyrus made her coming out of a giant robot bear. She startled on the bear at the beginning of her song.
2. THE DERPY THING SHE DID WITH HER TONGUE, WHICH WAS STICKING OUT EVERY TIME. – Looks like Miley Cyrus is in love with sticking her tongue out. Last VMA awards saw her sticking her tongue out the whole time during the performance.
3. HER FIRST TWERK MOMENT- Miley Cyrus seems to have a feel of having some "sexy moves" according to her, all through her performance the singer has done some really weird moments
4. WHEN SHE MOTORBOATED A 'TEAM TWERK' MEMBER'S ASS– Miley Cyrus now was like a free bird who was anything, literally anything on the stage.
5. WHEN SHE MANAGED TO GET HER CLOTHES OFF– Miley Cyrus ripped her clothes off and got rid of her bear onesie. She got to get a confusing look from everyone present.
6. SHE WALKED AROUND IN HER WEIRD OUTFIT-Miley Cyrus managed to walk around and perform on the stage with her weird outfit. Everyone in the audience did not understand her and her style at all.
7. TOUCHED HERSELF WITH GIANT FOAM HAND-Miley Cyrus now got all gross when she touched herself with the giant finger.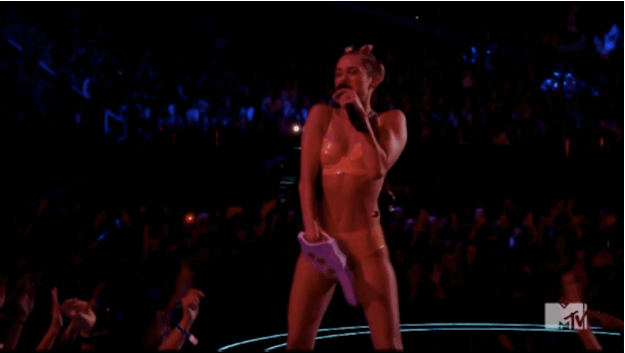 8. SHE MADE A WIENER– Miley Cyrus, oh well that was too much, she had probably lost her senses while performing.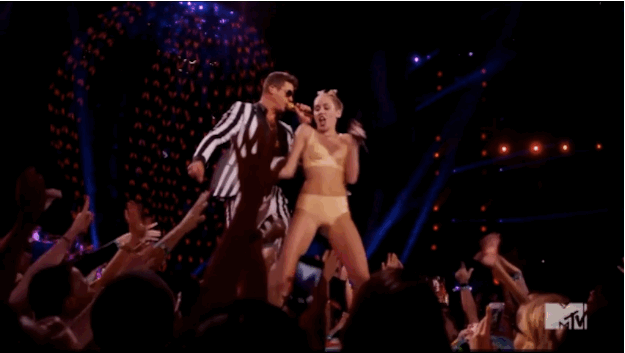 9. NUZZLED ROBIN THICKE'S NECK– Miss. Miley on the claim to fame really is the grossest-performer of all time.
10. WHEN SHE TWERKED ROBERT THUCK– It's pretty bad when all your 'sexy' moves are trumped. Everyone at this year's VMA'S AWARDS after Miley's performance was confused and like "what the hell did just happen?"
What Miley Cyrus did at VMA 2013 made us all forget any of her previous VMA moments and appearances and so there is no need for any justification to say that her top 10 VMA moments were all VMA 2013. She had all her oops and awe moments which forced the world to take notice of her. Looks like that Miley Cyrus is in real need of fame and is doing everything as weird as possible to gain controversial reviews.
Miley Cyrus bringing her best twerking outfit for her eye popping performance at the MTV Video Music Awards.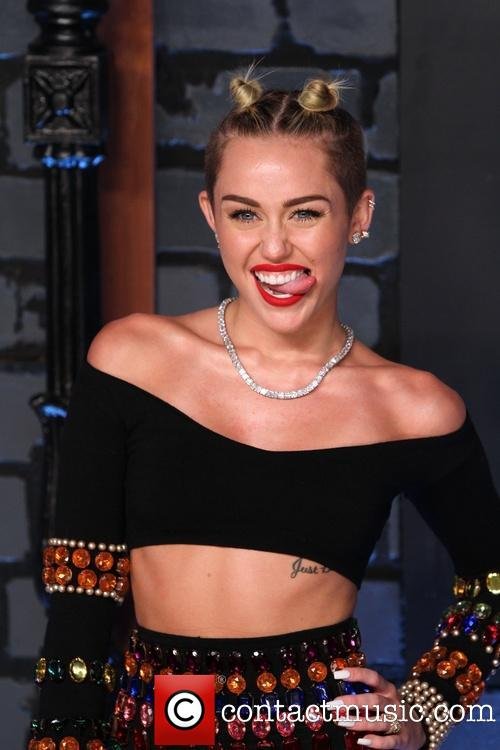 The controversial singing her hit We Can't Stop and duetted with Robin Thicke for summer tune Blurred Lines, her wearing   nude PVC hot pants which was more revealing than anyone could have ever expected, to be quite honest, add to this a giant teddy bear and we've got ourselves one of the most risky performances of the night. But it works, in a way.
Some viewers took to Twitter to express their disgust after watching the performance on television.
Another tweeter added: "I really want to go to sleep but I'm really worried Miley Cyrus might be hiding in my closet." And another person simply wrote: "Miley Cyrus.. that was disturbing."