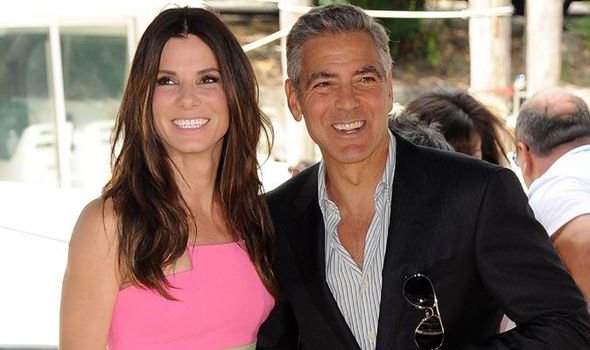 It's the Venice Film Festival where Sandra Bullock has shown her excellent dressing sense. Sandra was here with her co-star George Clooney for presenting their new movie Gravity. The appearance of Sandra Bullock has moved everyone out there. She was looking stunning in her complete red outfit. Sandra took black accessories to compliment her total red gown.
Sandra Bullock was an eye catcher at the Film Festival because of the vibrating red gown she was wearing. The actress looked fabulous in her dress and accessories at the age of 49. Her folded gown with brunette pulled back hair slight make up made everyone give her a must watch. She gave elegant posses for the photographers and her photographs appeared stunning.
Sandra has used little make-up to complement with her red folded gown. She used a lipstick of coral red color which again highlighted her bright complexion. She carried a diamante and black clutch bag which was giving a good contrast to her red gown. Another thing which made her look stunning was her pair of strappy black sandals. Sandra selected her pair of earring again with smartness. She was wearing diamond earrings. She stole the show this Wednesday night with her outstanding dressing and accessory sense. She is a real style Diva.
If we talk about George, this 52 years old actor came in to the Venice Film Festival in Classic Red-Carpet outfit. George was wearing black tuxedo with white shirt with bow tie. George was impressed watching Sandra in such an attractive outfit. According to George, Sandra was stealing the show on Wednesday night. George admired the dressing sense of Sandra and loved to walk with her on the red carpet.
On the 70th International Venice Film Festival Sandra was very cheerful and promoted her upcoming space-based drama with a wide smile on her face. She went to the crowd and talked to people out there. She was generously giving autographs and allowing people take her snaps. This is the quality of a real super star who loves her fans. Sandra had kept smiling throughout the evening and showed her love towards her fans.
Sandra is very positive with her acting in the movie Gravity. She wants her acting skills to be appreciated for Gravity as well similarly as in 'The Blinde Side'. Sandra is the actress who won Oscar for her acting The Blinde Side in the year 2009.
To mention Sandra appeared in Incredibly Close and Extremely Loud last both in supporting roles. Both these movies are emotional drama. Sandra had shown her acting caliber in Comedy hat as she worked for Paul Fleg in 'The Heat'. Thus, Sandra is an actor who knows every dimension of acting and is very positive with her spaced based drama.
Everyone at the Venice Film Festival had appreciated the appearance of Sandra Bullock. Sandra and George walked the red carpet together to promote their movie Gravity. Sandra's approach to the crowd is very well applauded and she has given a view to her fans as well on Wednesday night at the Film Festival.
Summary: In this post we have come up with the latest news about Sandra Bullock who stunned the red carpet with Red Gown. Sandra has arrived at the Venice Film Festival to promote her new space-based movie Gravity with George Clooney. Keep reading www.beaurtynstyle.net for latest celebrity gossips.