Ah, 2013. What a year it's been. From the high points, like Jennifer Lawrence's lovable girl power, to the low points (like the very sad passing of Paul Walker), we've seen so many ups and downs in Hollywood. As we head into 2014, here's a look back at the happiest, saddest, and most talked-about moments in celebrity news.
Best Celebrity Moment: Jennifer Lawrence Continues Her Reign of Being Awesome

It's hard to deny the brilliance of Jennifer Lawrence, both on- and off-screen. Last year, she warmed our hearts during the first Hunger Games press tour. But after witnessing her flip out after meeting Jack Nicholson at the 2013 Oscars, her memorable walk to the Oscars stage to accept her award for Silver Linings Playbook, and the way she managed to make flipping Josh Hutcherson the bird during the Catching Fire press tour kind of sweet, J.Law officially became everyone's new celebrity best friend.
Best Celebrity Moment: Angelina Jolie Bravely Opens Up About Her Double Mastectomy

Earlier this year, Angelina Jolie started a national dialogue when she revealed that she would be undergoing a preventive double mastectomy. She made the decision after testing positive for the BRCA gene mutation that elevated her chances of getting breast and/or ovarian cancer. We salute Jolie for being brave enough to share this difficult decision and empowering women to take charge of their health.
Worst Celebrity Moment: the Paula Deen Scandal

One of the most surprising celebrity missteps of the year? When Paula Deen was allegedly caught using the N-word. The information came out during a discrimination lawsuit, which was later dropped. Because of the scandal, Deen was fired from the Food Network and dropped by many of her sponsors, including JCPenney and Sears.
Best Celebrity Moment: Prince William and Taylor Swift Sing "Livin' on a Prayer" With Bon Jovi

The most random—and awesome!—moment of 2013 came just last month in the form of a live performance. At a gala for the U.K.-based charity Centrepoint, Taylor Swift and Prince William jumped onstage with Jon Bon Jovi to sing backup vocals for an acoustic version of "Livin' on a Prayer."
Best Celebrity Moment: Kerry Washington Dominates 2013

A happy surprise of 2013 was the rise of Kerry Washington. The actress had a rock-star year with her hugely popular, addictive show Scandal, which rewarded her with a well-deserved Emmy nomination for Best Actress in a Drama Series. To cap it all off, Washington also became the first African-American female lead in a network drama in almost 40 years.
Worst Celebrity Moment: Julianne Hough's Ill-Advised Halloween Costume

If you're dressing up as a TV character for Halloween, you'll probably pick out clothing and a hairstyle that looks as similar as possible to him/her. But Julianne Hough took things a little too far when she went in controversial blackface to be "Crazy Eyes" from Orange Is the New Black. Needless to say, it did not go over well with many people. Hough promptly apologized, but she's still dealing with the fallout.
Best Celebrity Moment: Macklemore and Ryan Lewis' "Same Love" Success

Yes, Macklemore and Ryan Lewis once sang about the joys of thrift-shopping, but their song "Same Love" (about gay rights) had a more serious message. The track was released in 2012 as part of Macklemore's album The Heist, but the song shot to popularity this past year after a stirring VMA performance. The duo successfully opened a discussion about positive portrayal of homosexuality in rap music. And the love continues: They recently received a Grammy nomination for Song of the Year.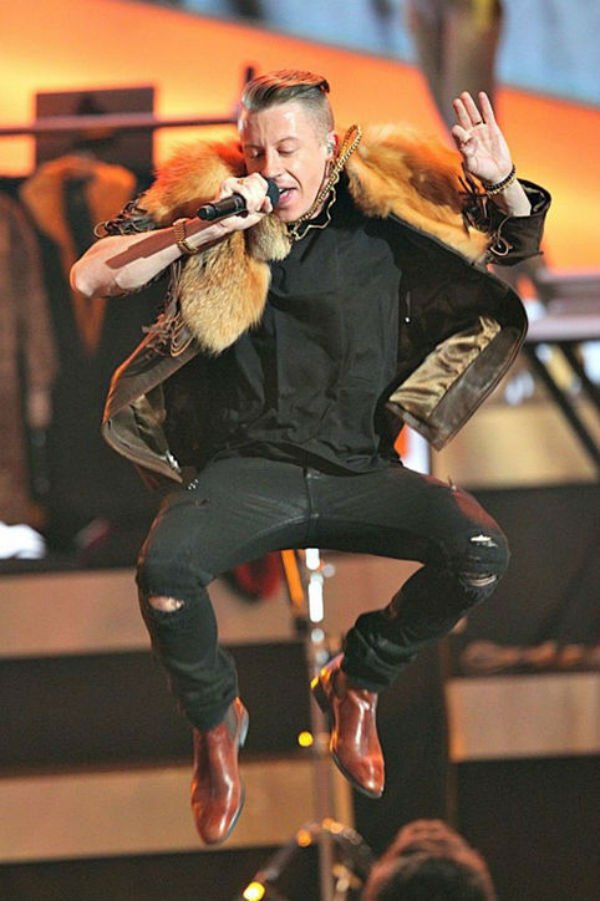 Best Celebrity Moment: Aziz Ansari's Saris and Stand-Up

It has been the year of Aziz Ansari. The Parks and Recreation star recorded a new stand-up special and put it on Netflix for the entire world to see. And while the special is absolutely hilarious, the hilarious public appearances he's made to promote it are even better. Prime example: when Ansari went on Conan to promote his own line of Indian saris (as a joke) with this amazing video. We don't know about you, but we'd buy one in a heartbeat.
Worst Celebrity Moment: The Twerking Craze

For those of you who somehow avoided the news, Miley Cyrus' VMA performance turned this raunchy dance into a pop-culture phenomenon. As a result, we've had to listen to our moms and grandmothers telling us they too know how to "twerk." Thanks a lot, Miley.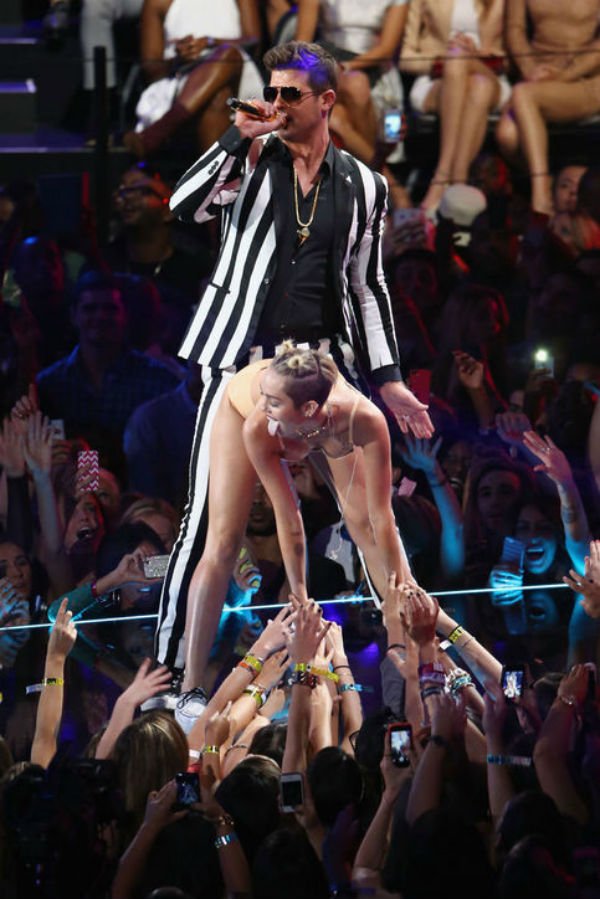 Best Celebrity Moment: North West Is Born!

We're just going to say it: Two royal babies were born in 2013. That's right, Kanye West and Kim Kardashian's daughter, North West, is a member of pop-culture and hip-hop royalty. The birth of baby West (and Kim's entire pregnancy) was followed so closely by fans that we'd almost rank it on par with the birth of Prince George. Almost.
Best Celebrity Moment: The Royal Baby Was Born!

It was a moment as big as the Royal Wedding itself. Prince William and Kate Middleton had a son named George—and everyone went crazy. From the 24-hour royal-baby watch to all the royal-baby merchandise—including iPhone cases and laundry detergent—the birth of Will and Kate's son was a moment the world shared.
Worst Celebrity Moment (With a Positive Turn-Around): What Happened to Amanda Bynes?

Amanda Bynes seemed to be going through a tough time, to say the least. She started calling out celebrities on Twitter, sent some rather uncomfortable tweets to Drake, shaved her head, allegedly started a fire in a neighbor's driveway, and got arrested. After checking into rehab and disappearing from the news for a while, she is now reportedly doing much better and looking at colleges to attend. We're cheering for you, Amanda!
Best (or Worst, Depending on How You Look at It) Celebrity Moment: Robin Thicke's "Blurred Lines" Takeover

With sick beats by Pharrell Williams, great vocals, and a controversial music video (and lyrics), "Blurred Lines" quickly became the song of the summer. Robin Thicke's megahit dethroned Daft Punk's single "Get Lucky" to lead the Billboard charts for 12 full weeks, a feat accomplished by only two other songs ever.
Worst Celebrity Moment: Justin Bieber Goes Bad Boy

Justin Bieber has had quite a year. He canceled performances on his international tour, lashed out at paparazzi in London, threatened his neighbor's life, and abandoned his pet monkey in Germany, which resulted in an $11,000 animal-care bill that he was asked to pay. On top of that, a search of the Biebs' bus allegedly uncovered marijuana and a Taser. We miss the kid with the cute hairdo.
Best Celebrity Moment: British Scene Stealers Tom Hiddleston and Benedict Cumberbatch Become Bona Fide Celebrities

Thor star Tom Hiddleston and star of Tumblr reposts Benedict Cumberbatch became heartthrobs and household names this year. Cumberbatch won us over during his Star Trek 3 press tour when he joked about having cheekbone-polishing parties with Hiddleston and Doctor Who's Matt Smith. Hiddleston was just as entertaining and lovable while promoting Thor 2, as this video about his giggle suggests.
Celebrity Moments: The Passing of Paul Walker, James Gandolfini, and Cory Monteith

We mourned the loss of many celebrities in 2013: Sopranos star James Gandolfini died of a heart attack in June, Glee star Cory Monteith died of drug overdose in July, and, most recently, Fast and the Furious actor Paul Walker died in a car accident. They will all be missed.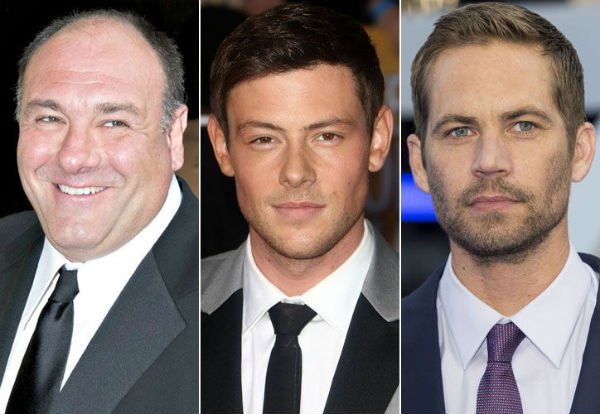 Best Celebrity Moment: James Franco's Roast

As we all know from the cringeworthy 2012 Oscars, James Franco is not always great at everything. But here's what is great: Franco's sense of humor. In September, Franco allowed Comedy Central to put together a roast for him—and many of his famous friends were invited to just completely destroy the poor guy. Seth Rogen, Jonah Hill, Aziz Ansari, Bill Hader, Andy Samberg, Nick Kroll, and more of our fave comedians hit on every topic in the James Franco arsenal—from rumors about his personal life to poking fun at some of his movie choices. Luckily, good sport Franco played along.
Best Celebrity Moment: Will Ferrell's Anchorman Press Tour

Anchorman 2 hasn't been released yet, but Will Ferrell is already on a roll promoting the film. In character as Ron Burgundy, Ferrell recorded a hilarious spot for Comic Relief, helped honor Judd Apatow at the San Diego Film Festival, and even started doing commercials for the Dodge Durango (they are pure genius). He even found the time to write a book (yep, still as Burgundy), interview Payton Manning for ESPN, and anchor a local news broadcast in Bismarck, North Dakota.
Best Celebrity Moment: Tina Fey and Amy Poehler Host the Golden Globes

It only makes sense that two of the funniest women in America would make an epic Golden Globes hosting duo. All of their bits were perfectly timed—not running too long or too short—and because they were never mean-spirited or crude, they were able to poke fun at everyone from the Hollywood Foreign Press to Daniel Day Lewis, Lena Dunham, and Ben Affleck. We can't wait for them to do it all over again in 2014 and 2015.