She is considered the glamour epitome but Kelly Brook was spotted in a gym gear dress on Thursday. She has a particular attire in which is seen the maximum times. On Thursday she was seen wearing completely different attire. Her new avatar is really applauding as it gave her a stunning look. The model made her latest public appearance wearing a metallic dress at the launch party of Jewellery shop.
The off-shoulder frock she was wearing was giving her a glamorous appeal. She was in the limelight while entering the Flagship store Pandora Thursday evening. She in her glittering outfit was stealing the show. Everyone out there was hardly able to resist their view to her.  The star was looking healthy, happy, and tanned while leaving the Landon home for the launch party. The star was carrying her dress with confidence as well as elegance.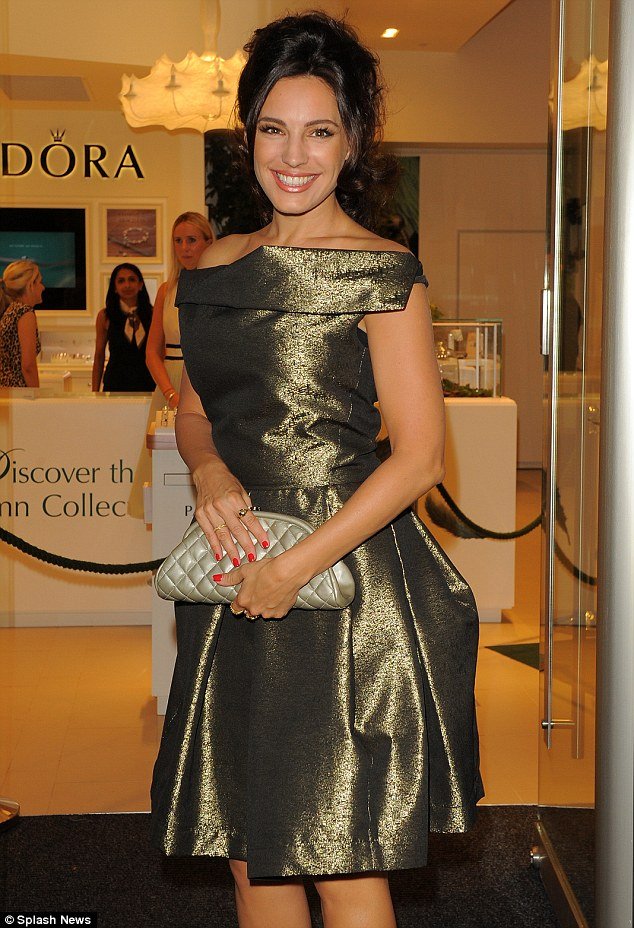 Kelly selected her accessories smartly. She wore a pair of black heels which made her toned legs look fabulous. She took a cute clutch bag of leather to carry her essentials. As far as her makeup is concerned she used a soft makeup for the evening. She put black eyeliner on her eyes and used the mascara to make the eyelashes to look waved.  She used a peach colored lipstick to highlight her beauty lips. She wore two finger rings in her left hand. She put red nail enamel to make her nails look beautiful too. Another thing that got most of the attraction is her hair. Kelly's hairstylist made her look outstanding. She put two layers in front to stay sideways and complement her face. She tied the black hair at the top and left the rest of the curly hair to flow. Her hairstyle was stealing looks. Her glossy black hair complemented well her metallic of-the-shoulder frock. Another thing that needs mention here is that she was not wearing any heavy piece of jeweler and was looking beautiful naturally.
The single star has got a great taste about beauty and style. She is capable of handling new-new attires which is the sign of versatility.
She was standing out of the crowd in the glowing outfit. Her dress was simple was appearing perfect for her on Thursday evening. There was a clinch in the dress round the waist and big pleats were there through her skirt. The most highlighting part about her dress was the neckline. The dress had a boat like neckline which was in turn highlighting her beauty bones.
Kelly was found in a joyous mood throughout the evening. The broad smile on her face was clearly intending that she was enjoying the launch party. She was spotted with Kimberley enjoying a glass of cocktail.
When the matter is about Jewellery then it is obvious that girls would enjoy. The shine of the Jewellery pieces were making all the girls out there happy. A new Pandora Shop is a great reason to laugh and enjoy with lady pals. Kelly was getting the spotlight maximum times as she was in a showstopper look Thursday evening.
Summary: This post is about the latest public appearance of Kelly Brook which she made on Thursday evening. She was spotted in a metallic off shoulder frock with minimal makeup while going for the launch party of Pandora's Jewellery Shop. Find more celebrity news and gossips at www.beautynstyle.net and enjoy reading them.