Well it's a world known fact that celebs are the trend setters of the fashion world. What they did yesterday is what is  "in" and being followed today. So it's not that hard to imagine that celebrities must be and definitely are miles ahead of us in the trendy globe of nail art.
2013 is the year of out of the world nail arts and obviously we did see many celebs and fashionistas sporting fabulous nails some of which are definitely beyond are skills and means to replicate. But what's the harm in taking a look at it and maybe coming up with our own take at it. Let's see…
Here are some celebrities and their fabulous nail art:
Kelly Ousborne – She flaunted her engagement ring along with fabulous matching nail art showcasing this cool heart ( well of course love is definitely in air for her) decorated with rhinestones.
Hailee Steinfeld – This zany star showed of her nails at the Comic con nail art which went with the general motif and well no doubt was the centre of attraction of the event. She did take a risk with this quite modern never seen before style but she pulled it off.  And the next thing we know, everybody's going the "hailee way".
Cara Delivingne – Well done lady! I mean what's the best way of bragging about fact that you have 2 million followers other than in the form of nail art.
Iggy Azalea – Finally a  nail art that even the common can do! Classic and striking  neon green art that will definitely get you noticed. Good job Iggy azalea!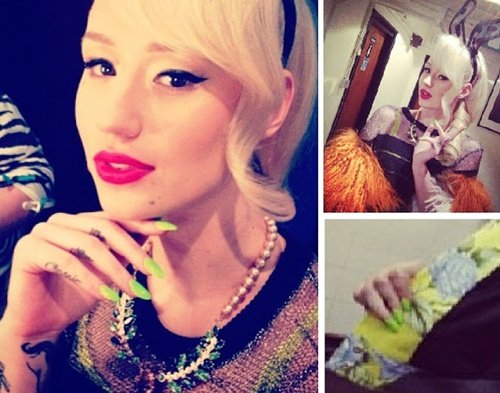 Miley Cyrus  –  Well what else can we say… it's Miley Cyrus. This former Disney star makes sure that she gets noticed wherever she goes whether its through her "twerking" VMA performance or through her fabulous Golden bling nail art. Just to mention we like the bling art more!
Laura Whitmore – Simple and elegant and totally in line with her love for music… ladies and gentlemen Laura Whittmore sporting her amazing nail art!
Rita ora  – She had this angelic art done on her nails which looked awesome.
Bella Thorne- she decided to wear her solid yellow nails with greyish-white polka dots. It was definitely a never- seen – before creation.
Rachel McAdams – What she was sported wearing was an elegant nude eclipse moon on her nails. Nice move… it definitely got her noticed.
Jessie Ware – Something that works fantastically and is easy at the same time ;when all the other celebs were going crazy about their nails we really liked Jessie's monochrome nails and the fact that her simplicity made her stand out.
Amelia lily – She spiced up her look by adding a hint of mint green with sparkling which just felt like a breath of fresh air and brought her attire to life.
Lily Allen – Simple ,well maybe not but definitely adorable. What a way to celebrate the Christmas spirit. Santa must be happy and Mrs. Santa must be busy replicating it for sure!
Here is some more examples of Celebrity Nail Art: