The Oscar nominations are here! Time to start speculating on the red carpet gowns, but don't forget that the Screen Actors Guild Awards are this Saturday night. Sophia hit the mark on one of her predictions for the best dressed at the Golden Globes (lookin' good, Lupita Nyong'o), so let's see how well I fare with my wish list—straight from the spring 2014 runways—for Saturday night's red carpet.
If Lady Mary and New Girl Jessica Day (OK, Michelle Dockery and Zooey Deschanel) were to continue their dressed-up tea party glam in Oscar de la Renta one might call dibs on this floral rise-fall hemline gown.
After dressing Sandra Bullock and Zoe Saldana at the Globes (plus Jaime King at an after-party and Cate Blanchett at a pre-awards event), Prabal Gurung might be running out of awards-season dresses from his spring and pre-fall collections. But if he could eke out one more look—how about this paneled and beaded column dress that's both straightforward and beautifully complex at the same time.
While the debate over Emma Watson's Dior couture backless dress-over-pants ensemble still rages on, there's no denying she made the red carpet that much more fun and interesting. So if there could be one more dress-pants look to keep the discussion alive, I vote for this statement-making beaded and printed bubble pouf cocktail frock over skinny trousers. We can start dishing in the comments—go!
Buzzy designer Juan Carlos Obando is a name you'll be hearing more often, just look at his recent outings dressing A-list stars, including Cate Blanchett in an electrifying mixed media piece and Amy Adams in happy polka dots. Speaking of the latter, if she wanted to keep up her American Hustle-reminiscent cleavage-baring glam, how about this sexy-time gown to show a little leg too?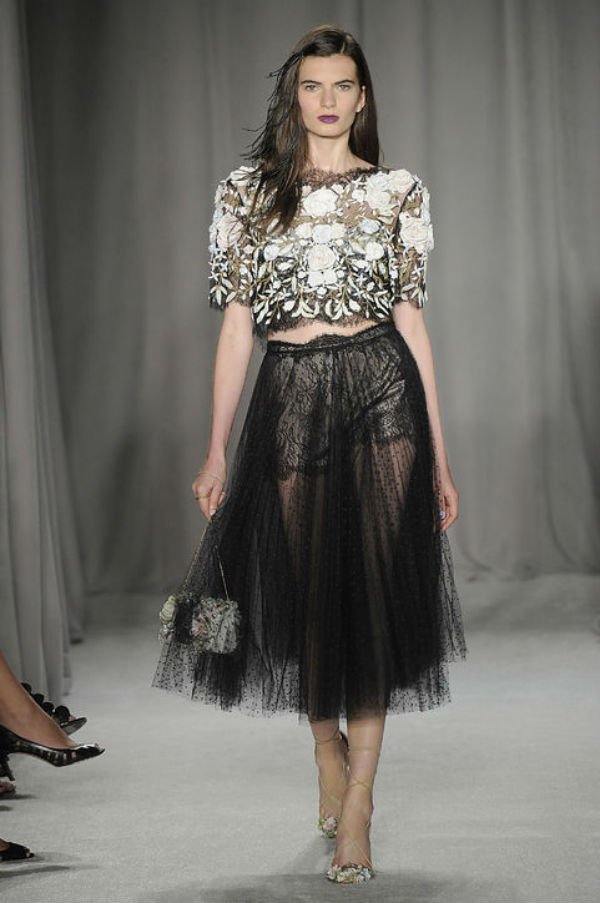 Like the Globes, the SAGs are much less buttoned up than the Oscars, hence the ideal opportunity for a controversial crop-top sighting. I'm gunning for this floral appliqué top and dotted lace skirt pairing by Marchesa. Modern yet ladylike at the same time.
Black gowns are always a regular at Hollywood awards events, but hopefully we'll see something spectacularly slinky but 100 percent elegant, like this sheer paneled mermaid gown by Jason Wu.
Zac Posen is a go-to for the high-profile red carpets, but I have my eye on this off-the-shoulder champagne blush gown with voluminous ruffles at the bodice. It's a refreshing but still impactful departure from his signature (and loved) dramatically structured ball-gown silhouette.