It is a common impression of female nowadays that they only look beautiful when they apply makeup to their face and this is true to some extent. The main reason is that our skin has to bear many harmful chemicals and impurities during the day so it is normal to get tanned skin, chapped lips and dried out hair. Due to heavy makeovers and styling, the girls wake up with a dull and unimpressive look so they they have to wear makeup the very first thing in the morning. This is a bad routine for it may damage your natural beauty. To avoid excessive use of makeup and to look naturally beautiful every morning, here are some tips from the experts.
Brush Your Teeth:
Brushing your teeth before leaving to bed is the most essential step of personal care. It will not only keep your mouth germ-free, but also will protect it from bad odor. You will wake up with a confident and glowing smile next morning.
Use a good cleanser:
Our skin needs to absorb oxygen as it breathes. When we wear foundation, it clogs our pores so skin cannot get enough oxygen and eventually, it starts looking dull. Use a good cleanser (cucumber or milk cleansers are so good) at night to clean your face thoroughly because only soap will not unclog the pores thoroughly.
Use Face Wash:
Use some good face wash instead of soap for your face. Facial foams work much better than soaps as they won't leave your skin dry. Usually, for oily skin, a face wash with lemon will work and for normal to dry skin, milk or herbal face wash is a good choice.
Moisturize your  skin:
Pat dry your skin and use a good hand and body lotion to moisturize your skin. Make sure to apply lotion on a bit damp skin and you will feel the difference. Dry skin will not absorb moisturizer so well like damp skin. Try to buy a good night cream to apply on face because usually lotions and normal moisturizers are made for hands and body, not face.
Apply lip gloss (transparent) or Chap-stick:
Don't leave your lips unattended. Strawberry Chap-stick will do the magic or you may choose some other with your favorite flavor. It will leave your lips soft and rosy and you will love to smile when you wake up in the morning. Lip gloss is also good for hydrating your chapped lips.
Apply Kajal or black liner inside your Eye:
Sometimes eyes look too nude when you wake up in the morning that you are afraid to look at yourself. It is because you are used to wear eyeliner and mascara. If you want to look nice even without wearing eye-makeup, apply a thin line of black Kajal or soft liner in your inner eye. If you apply it outside, on upper lid, make sure it is not waterproof liner. Any kind of layers (foundation, waterproof liners, mascara) are truly bad for your skin's health and wellness.
 Brush your hair: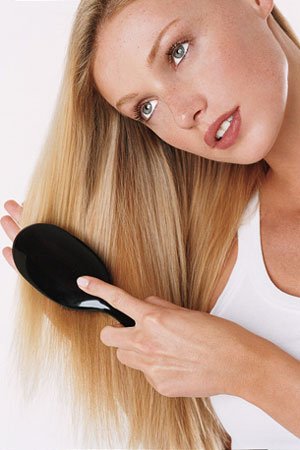 Brushing your hair with a good quality hair brush is so important. There are two reasons for that. Firstly, after the hectic routine of daytime, your hair need to be treated carefully and made tangle-free. If you have dry hair, apply some night hair lotion on them. Secondly, brushing your hair makes your scalp and blood vessels refreshed. Blood circulation, if improper, will make you suffer from hair loss and damage.