Nail art is becoming popular among the ladies who are keen to adopt fashion and want to look fabulous. The colorful designs in nail art are different with a complete range of variety all over the world. Some designs are funky while others are decent. Glitters, nail polishes, beads, different brushes, shiners and other related things are used to get a perfect design. You can try them even these at your home by using these things along with your creativity.
In 2014 as some advancement is seen in the fashion and design industry, nail art is also updated. These are some famous designs from New York Fashion Week Fall 2014. These are crazy and amazing.
Degen:
This OPI art is related to the rainbow, cloudy and rainy effect to give the funky look.
Rebecca Minkoff:
This design is somewhat decent as you can see dark red paint applied all over the nail with a thin black nail tip.
 Wes Gordon:
This is an amazing design with a combination of two different colors amalgamated together to give a complete and a nice look.
Mathieu Mirano:
This design is about splitting the nails into two amazing colors red and black which are always popular in night parties.
Nicole Miller:
This is a sharp design with the combination of two hot burning colors for a classic look.
Nonoo:
This is an elaborate design of this season with grey silky base, navy blue and lilac soft lines for a cool look.
Lela Rose:
This is for the delicate look with the diagonal separating area along having two soft skin shades.
Ohne Titel:
This funky design is based on the sunset theme with silver and golden quote on the edges of nail with the strong red color background.
Peter Som:
The decent black and white design gives the impact of the half moon.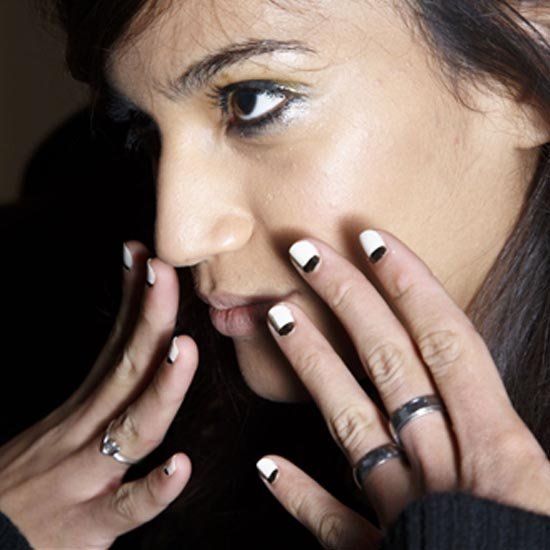 DKNY:
This is famous smoky french style with a simple and classic look.
Creatures of the Wind:
This is the stone texture design with soft skin and grayish peach shade by using marbling water technique.
All these designs are cool and different. So, try them along with a perfect make up. They will give extra attraction to your hand's beauty.