Whether you're celebrating with your guy or your girlfriends, we've got your beauty look covered!
Romantic Flushed Cheeks

The key to achieving the rosy glow here? Pick a pink blush with a hint of warmth. And don't forget to dab a shimmery highlighter above the cheekbones.
Romantic Pastel Blue Eyelids

Pale blue eyeshadow is girly yet sophisticated. Make this look fresh by keeping the rest of the face and lips natural.
A Romantic Embellished Headband

Polish off a pulled-back style with a pretty headband like the models at Dolce and Gabbana's spring 2014 show. It's an easy way to take your ponytail from day to night.
Cute Heart-Shaped Nail Art

Wear your heart on your sleeve—or nails! To try this idea at home, start with the lightest polish color. Then let each color dry completely before layering the next one.
Cute Orange Lip Gloss

If you wear nothing else, dab on orange gloss with a bit of shine and you'll be good to go—anywhere.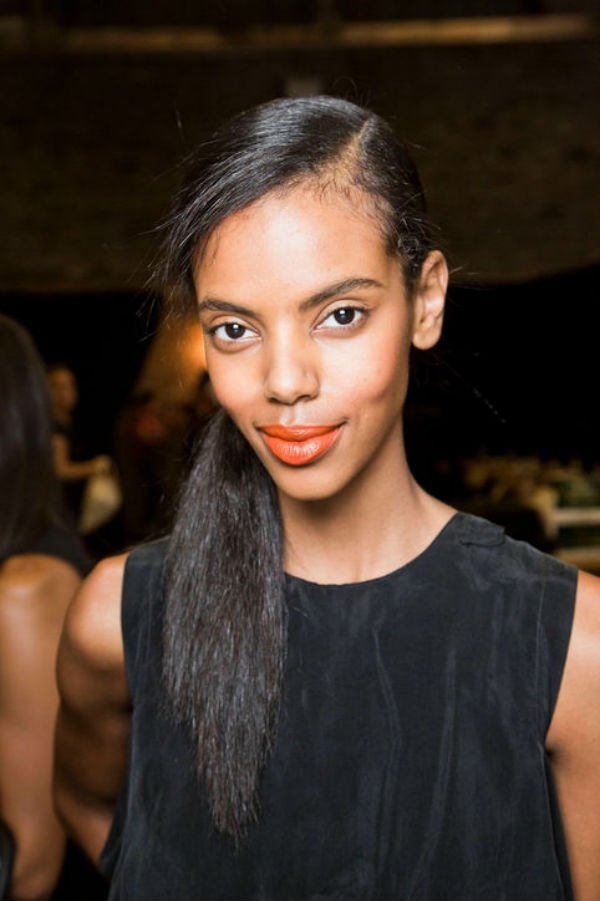 Cute Flipped-Out Waves

Using a 1 1/2-inch wand, curl sections of hair away from your face. Set waves with aerosol hairspray. Done!
Sexy Crimson Eyeshadow

Apply matte red shadow across the lids. For a glossy finish (like the one here) pat on clear gloss with a flat, synthetic makeup brush. Just be careful: Gloss has a tendency of making eye makeup run, so apply it last and check on it often.
Sexy, Dewy Skin

For skin like this, amp up your moisture routine. Here's how: After cleansing your face, try an intense hydration mask, then an ingredient-packed serum, followed by a moisturizer. Your foundation will apply like butter.
Sexy Over-the-Shoulder Hair

After washing your hair, apply a volumizing mousse to the roots. Flip your head over and blow-dry. When hair is dry, mist with a flexible-hold hairspray, then throw it all to one side.
Over-the-Top-Sultry Nude Glow

This look is all about the bronze. On eyes, take two shimmery eyeshadows, one light and one dark. With a fluffy blending brush, apply the dark shade at the outer corner of the eye. Then, with a flat brush, dab the lighter color at the inner corner, bringing it underneath (and don't forget to blend). Add two coats of mascara and contour with bronzer.
Over-the-Top-Sultry Updo

Bedhead has never looked hotter. Spritz texturizing spray at the roots, then flip your head over and gather hair into a pony. Secure hair with a tie, and leave out some pieces in the front. Effortless.
Over-the-Top-Sultry Chocolate Smoky Eye

The best part about deep brown eyeshadow? It looks amazing on every skin tone. For deeper complexions, pick one that's super pigmented. Apply it all over the lid—and all the way up to the eyebrow.