Singer, songwriter, and soon-to-be Mia Grey in the much-anticipated Fifty Shades of Grey movie Rita Ora is just as much of a fashion figure as she is an entertainer. Just take a her Fashion Month exploits into account: sitting front row at DKNY and Donna Karan at NYFW, and walking in the Moschino show and performing at the Philip Plein runway show and after-party in Paris. The artist skillfully manages to look drop-dead glam, street-wear cool, or sometimes just avant grade—and nail it every single time. Which clearly is why she's a high-fashion darling AND why she's our Glamour Style Icon of the Week. Let's take a tour through some of her top looks.
In 2012, Rita smiled pretty in a full-on color-bombed Roberto Cavalli spring ensemble at the VEVO LIFT performance in New York City.
Later that year, she smoldered in an old-Hollywood-inspired column gown by Pucci at the Bergdorf Goodman 111th Anniversary party at the posh Plaza.
During spring 2014 NYFW, Rita closed the DKNY runway show and performed at the label's 25th anniversary party. She later became the face of the DKNY resort 2014 collection.
Next stop: London Fashion Week, where Rita sat FROW at Burberry Prorsum—and she wore a T-shirt with BFF (or former BFF?) Cara Delevingne's face sketched on it.
And finally, Paris Fashion Week spring 2014 in this ridiculously chic outfit at Chanel.
Rita also collaborated with Brit beauty brand Rimmel on a makeup collection in 2013. Here she is in a droolworthy Moschino Cheap and Chic graffitied-out jacket at a photo call for the collection. (I love this.)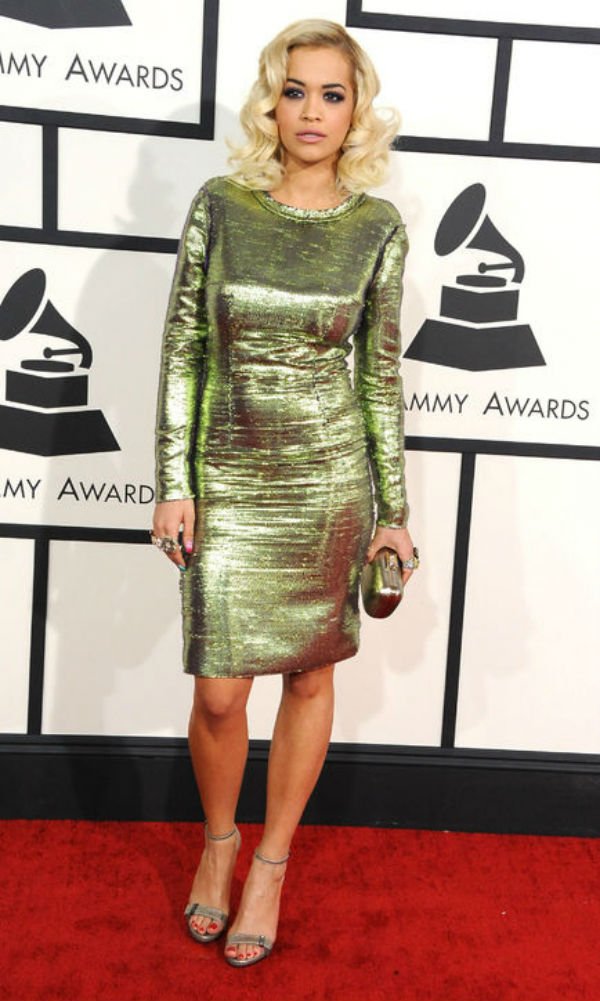 We also need one more look at the hypnotic holographic Lanvin dress that Rita wore at the Grammy Awards earlier this year.
We're hoping to see more of Rita during the last few days of Paris Fashion Week. Here she is at a Moschino post-show dinner wearing a custom, junk-food-inspired fall 2014 look. Cheez-Its never looked so chic. More Rita, please!