We all want to wake up even more beautiful than we were the night before. Thanks to an array of skin care products meant to work as we sleep, it's a legit possibility — if you remember to use them! To help you get the best beauty sleep of your life, we've rounded up our favorite skin care products that work during the night to give you smooth, radiant skin by morning.
Products that do the work as you sleep? Genius.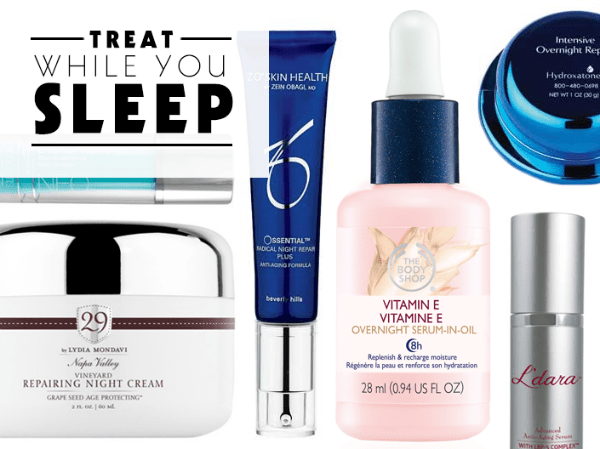 This anti-aging treatment is super rich and decadent, exactly what our skin needs during its nighttime repair process. It's also hydrating and stimulates cell turnover and renewal, while enhancing new […]
A revolutionary breakthrough in skin care featuring superstar fruit, goji berries, whose medicinal qualities feature properties that counteract the signs of aging, this serum gives radiant, smooth and […]
We're not getting any younger, but we can maintain the illusion as long as possible. This product smoothes wrinkles while calming sensitive skin.
Neocutis Bio-Cream Riche, $158, LovelySkin.com
Packed full of polyphenols and resveratrol grape seed antioxidants as well as peptides, shea butter, amino acids, marine extracts and vitamins, this is a night cocktail that gives skin a boost, while you […]
Peptides and plant growth factors improve the looks of fine lines, wrinkles, dark spots, and a rough texture. This nourishing night cream also soothes redness and irritation for healthier looking […]
Launching in March, this will combine the power of a serum with the indulgence of an oil to replenish and recharge skin with moisture overnight.
The Body Shop Vitamin E Serum In Oil, $28, thebodyshop-usa.com
A key ingredient to use at night time is retinol or retinoids (the prescription form of vitamin A). Because these products can be sensitive to sunlight, and can make your skin more sensitive, these […]
Whether it was a late night out or a busy day, bedtime is when our body replenishes. Our skin can too, as with amazing replenishing oil that leaves your skin softened, relaxed, and plumped as you wake. […]