It's a new year, which means another round of fashion trends and a fresh class of It Girls to obsess over. These 10 trendsetting models, socialites, and actresses from around the world quickly gained recognition for their sense of style, notable accomplishments, and overall coolness. Watch them for fashion inspiration in the year to come—and be careful, as extreme Instagram crushes are highly likely.
International It Girl 2014: Suki Waterhouse

Occupation: Actress/Model
Home Base: London
It Girl Credentials: The willowy blond is the face of Burberry and has graced the covers of Elle U.K. and Tatler. Her signature choppy bangs and shaggy bedhead nearly rivals Alexa Chung's beachy bob for the title of Most Copied It Girl Hair. Suki also hangs with fellow Brits and It Girl models Cara Delevinge and Georgia May Jagger. Oh, and you may have heard of her boyfriend—Bradley Cooper.
Instagram: @sukiwaterhouse
International It Girl 2014: Malaika Firth

Occupation: Model
Home Base: Kenya-born and U.K.-raised
It Girl Credentials: Some people are calling 18-year-old Malaika Firth the next Naomi Campbell. Drop-dead-beautiful, she made headlines as the first black model to star in a Prada campaign (and the second to walk in the house's runway show—Naomi was the first in 1994). She also counts Burberry's spring 2014 campaign and the cover of the November 2013 Vogue supplement as highlights of her very impressive résumé.
Instagram: @malaikafirth
International It Girl 2014: Kyleigh Kuhn

Occupation: Model/Philanthropist
Home Base: Brooklyn, New York (by way of sunny California)
It Girl Credentials: While her modeling gigs include shoots with Patrick Demarchelier and Bruce Weber (plus a spot in the 2013 Pirelli calendar), it's Kyleigh's philanthropic endeavors that really put her on the social map. The model's mom, Heidi, is a founder of Roots of Peace, a nonprofit that de-mines war-torn countries and builds sustainable crops instead. Kyleigh founded her own division, the Roots of Peace Penny Campaign, which built six schools and several soccer fields for children in Afghanistan—she even created a photography book to document it all. A stunning smile, Brooklyn-meets-Cali-girl style, and a good heart—some girls really do have everything!
Instagram: @kyleighkuhn
International It Girl 2014: Fan Bingbing

Occupation: Actress/Singer/Producer
Home Base: Beijing
It Girl Credentials: She's a huge movie star in China already, but Fan Bingbing is about to make a major splash stateside in her U.S. film debut as teleporting mutant Blink in the upcoming X-Men: Days of Future Past. You may already recognize Fan from her showstopping turns on the red carpet at the past few Cannes Film Festivals, or sitting front row at Louis Vuitton, Valentino, Christian Dior, and Versace at Fashion Weeks around the world. Louis Vuitton in particular is such a big supporter that the label dressed Fan in a custom gown for the 2013 Cannes opening ceremony—and she'll appear in the LV 2014 spring ad campaign too.
Instagram: @bingbing_fan
International It Girl 2014: Chiara Ferragni a.k.a. the Blonde Salad

Occupation: Blogger/Shoe Designer/Law School Student
Home Base: Milan (but she travels a lot)
It Girl Credentials: Chiara is a street-style star for a reason. The cameras—including her own, as seen on her popular blog The Blonde Salad—just can't get enough of her eclectic, Euro-cool, high-low style. The brands love this jet-setting fashionista too—the savvy marketer has collaborated with the likes of Louis Vuitton, Bottega Veneta, Zegna, and Mango on various projects. Plus, the ambitious blond branched out into design with her own Caia.
Instagram: @chiaraferragni
International It Girl 2014: Pixie Geldof

Occupation: Model/Singer/Rock-Star Progeny
Home Base: London
It Girl Credentials: Pixie's modeling gigs include Vivienne Westwood, Loewe, Henry Holland, Jeremy Scott, and countless celeb-filled red carpet photo ops. And don't get us started on her clique. Her dad is musician and Live Aid founder Bob Geldof, and her BFFs include fellow rock-star daughters Daisy Lowe (daughter of Gavin Rossdale) and Atlanta de Cadenet (daughter of Duran Duran bassist John Taylor), plus Alexa Chung, Poppy Delevingne, and Harry Styles of One Direction. Can you imagine all the stellar wardrobe-sharing opportunities these best friends have?!
Instagram: @pixiegeldof
International It Girl 2014: Princess Eugenie of York

Occupation: Princess/Employee at Paddle8
Home Base: U.K.-raised Manhattanite
It Girl Credentials: She's seventh in line for the throne of England—that's pretty cool—but this art-history grad isn't resting on her laurels. The younger daughter of the Duke and Duchess of York (a.k.a. Prince Andrew and Sarah Ferguson) recently moved to New York City to start her first job at art auction start-up Paddle8, which, incidentally, was founded by posh Eton classmates of her cousins Prince Harry and Prince William. Her Royal Highness is already making the most of her time in the Big Apple, walking to work every day and even sitting courtside at a Knicks game next to Georgina Sparks Michelle Trachtenberg. We're sure Eugenie misses her BFFs back home though, including budding style icon and Prince Harry's maybe future fiancée Cressida Bonas.
International It Girl 2014: Nicole Warne a.k.a. Gary Pepper Girl

Occupation: Blogger/ Creative Consultant
Home Base: Sydney
It Girl Credentials: Nicole Warne first put the name Gary Pepper Girl on the map with a vintage shop on eBay, which eventually skyrocketed into a beautiful fashion blog and full-on brand to showcase the Aussie's signature old-Hollywood meets modern-glam aesthetic. Nicole is a street-style favorite with her carefully curated outfits featured in spreads in Vanity Fair and—oh, hey, Glamour.com! Plus, Nicole's creative chops have been tapped by brands from Dolce & Gabbana to Zara. We're sure we'll be seeing her and her amazing outfits out and about during Fashion Week, but in the meantime, we'll drool over her captivatingly dreamy pics of her world travels (and killer outfits) on Instagram.
Instagram: @garypeppergirl
International It Girl 2014: Iggy Azalea

Occupation: Singer/Model
Home Base: Born and raised in Australia, now living in Los Angeles (by way of Miami, Houston, and Atlanta)
It Girl Credentials: The sometimes-controversial singer with a distinctive, fashion-rebel sense of style quickly shot to fame, becoming the face of Levi's jeans, opening for fellow red carpet risk taker Rita Ora, performing at the star-studded Gucci Chime for Change benefit concert (along with Beyoncé, Jennifer Lopez, Florence and the Machine, and Mary J. Blige), sitting front row at Chloé and Vivienne Westwood fashion shows, and twerking it out alongside Rita Ora and ASAP Rocky at the DKNY 25th-anniversary party. Pretty impressive for someone who's been on the scene for just two short years, huh?
Instagram: @thenewclassic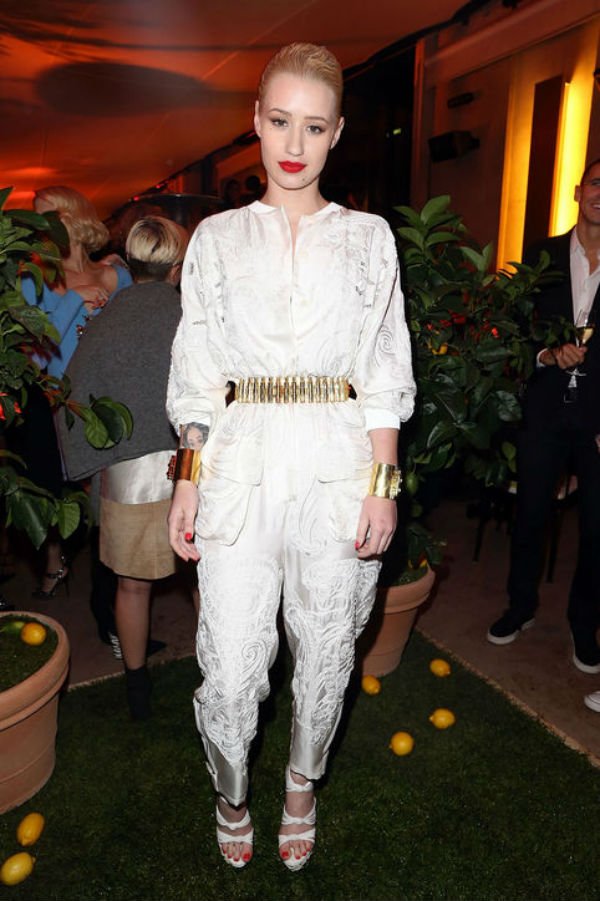 International It Girl 2014: Chiara de Blasio

Occupation: College Student/First Daughter of New York City
Home Base: Born and raised in Brooklyn, New York, currently studying in California
It Girl Credentials: She has quite possibly the coolest name right after Cressida Bonas, she's a born-and-bred Brooklynite (not a poser), she has a cool boho sense of style (floral crowns at political events to support Dad, yes please!), and she even got New York City-based designer Nanette Lepore to dress her for her father's inauguration. While Chiara probably wants to stay low-key (she opts for a total social media blackout) and just go to school like a regular 19-year-old, we can't help but want to see more of her.