Your softest skin and hair ever? Check! We picked the brains of top experts and we're stealing these 10 supple-skin secrets, just in time for Valentine's Day.
How to Get Soft Skin: Use Face Oils

We've said it before, and we'll say it again: Face oils will not cause breakouts. But they will lock in hydration and protect skin with rich antioxidants, says Tata Harper, founder of the eponymous all-natural brand. Try: Tata Harper Replenishing Nutrient Complex ($45, niemanmarcus.com) or Sanctuary Spa Therapist's Secret Youth Boosting Facial Oil ($36, qvc.com).
How to Get Soft Skin: Exfoliate, Exfoliate, Exfoliate

Exfoliation options are endless, but one of the fastest, most effective ones we've tried recently is the Dermasuri Deep Exfoliating Mitt ($20, dermasuri.com). You literally see dead skin cells being sloughed off your body, so you know it's working. Our skin has never felt softer—seriously, we could not stop touching it.
How to Get Soft Skin: Moisturize the Minute You're Done Showering

"The trick is to use your moisturizing oil or lotion while your skin is still warm and damp from the shower," says Harper. "Then, that moisture is absorbed and helps keep your skin super hydrated and soft all day." To lock in moisture as quickly as possible, one Glamour beauty editor even keeps her lotion on the same shelf as her shampoo.
How to Get Soft Skin: Filter Your Water

"Every time you enter your shower, your hair and skin are being exposed to large amounts of chlorine, destroying your hair's cuticle layer and drying out your skin," says Dan Sharp, lead stylist for T3. "When these impurities are removed, hair looks healthier and shinier, your color will last longer, and your skin will feel refreshed and hydrated." We tried (and love): T3 Source Showerhead ($130, nordstrom.com).
How to Get Soft Hair: Try Scalp Treatments

"To keep hair healthy and beautiful, scalp treatments are always great," says Caroline Greyl, CEO and president of Leonor Greyl. "They are especially ideal when the seasons change, to slough away residue and buildup." Ask for a treatment at your salon, or do it yourself with Leonor Greyl Regenerescence Naturelle ($60, nordstrom.com). Either way, you'll end up with a killer head massage and fewer flakes.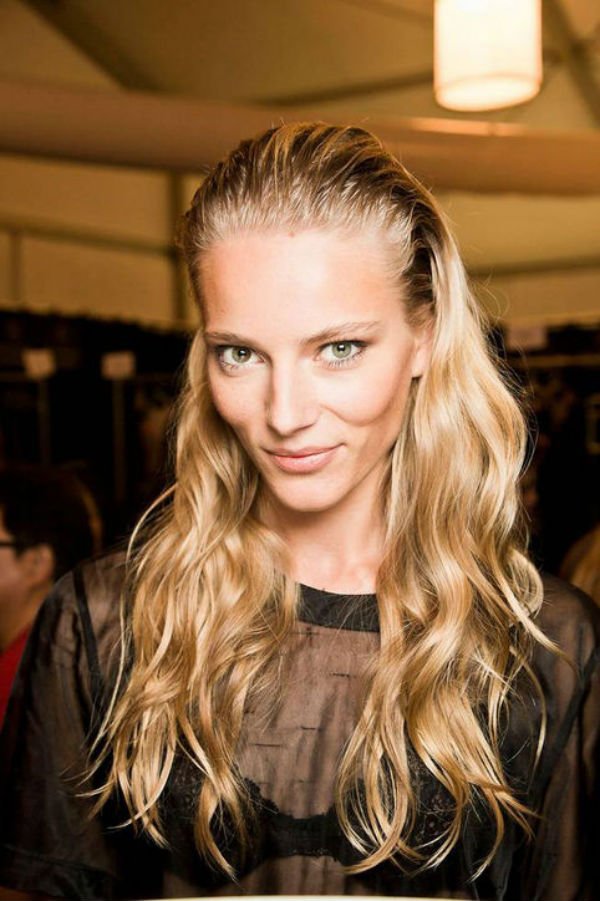 How to Get Soft Skin: Use Cuticle Oil With Vitamin E

"Cuticle oil is a must-have item for your nails and cuticles, especially in the winter. Look for one that has vitamin E, a super-rich antioxidant ingredient," says nail expert Jin Soon Choi. One we love: Sally Hansen Vitamin E Nail and Cuticle Oil ($5.99, target.com).
How to Get Soft Skin: Make Shea Butter Your New Bestie

"Shea butter is very thick and dense, perfect for heavy-duty winter treatment," says Choi. "Also avoid anything that contains alcohol because it dries and irritates the skin." Try Burt's Bees Shea Butter and Vitamin E Body Lotion ($8, drugstore.com).
How to Get Soft Skin: Pay Attention to Your Feet

"I strongly recommend investing in a foot file since people tend to get dry soles in the winter. It's best to have a professional-grade one that will last a long time. Find one that grinds your dry soles without cutting them so they can be evenly exfoliated without producing cracks." says Choi. For a more high-tech option, try the Clarisonic Pedi Foot Transformation Set ($199, sephora.com).
How to Get Soft Skin: Learn to Layer Products

"Just like you layer clothes to keep warm, layer moisturizers to keep hydrated. Apply your oil first, then seal it with a butter," says Frank Lipman, M.D., founder of the Eleven Eleven Wellness Center.
How to Get Soft Skin: Mix Hair Oil With Your Conditioner

"A lot of conditioners already contain oils, but if your hair is very dry, mix in a drop of hair oil with your conditioner," says Greyl. One of our favorites: Leonor Greyl Huile Secret de Beauté in travel size ($15, leonorgreyl-usa.com).