These crafts can make your celebration fun. Simple, clever and very creative Thanksgiving ideas. Let's begin.
1. Oreo Turkeys
Ingredients:
Candy Corn
Chocolate & Vanilla Oreos
Whoppers
Candy Eyeballs
Mini Reese's
Chocolate & Vanilla icing or candy melts
Mini Nutter Butters
As simple as it can be. Grab some Oreo, candy that left from Halloween, some chocolate and you have very cute eatable treat.  Even kid can do that.
2. Nutter Butter Pilgrim
Ingredients
6 Nutter Butters
1/2 cup Black Candy Melting Chips
1/8 cup Red Candy Melting Chips
6 Pretzel Sticks
6 pieces of Candy Corn
12 Candy Eyes
Candy corn to make a buckle for the hat. Melt Black Candy Chips and create a hat. Use pretzel to finish hat and use Red Candy Chips to make a mouth. Send to refrigerator for 10 minutes and voila!
3. Gumdrop Turkeys
Ingredients:
1 large gumdrop
7 small gumdrops
6 toothpicks
nerds candy
gummy worm
marshmallow
It's time to use your creativity. Pick colors that you like, add details and cute turkey is ready to serve.
4. Turkey Placemats
Supplies:
Leaves
Paper
Glue
Fall brings us many colors. So why not use it? Make a sketch, grab some leaves with colors that you like, add some paper body and lovely turkey is ready.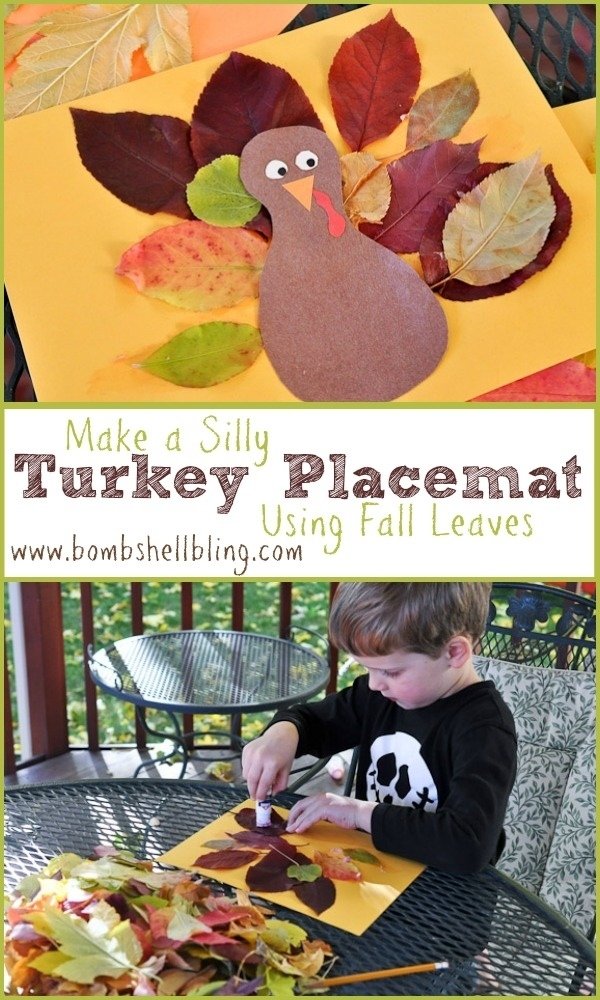 5.Thanksgiving Fortune Cookies
Supplies:
Patterns and fortunes
Color printer
Scissors
Glue stick
Paperclips or mini-clothespins
Print your cookie and fortunes, fold your cookie, fix it with glue and paperclip. Let it dry and you are ready to surprise your friends!
6. Plymouth Rocks
Supplies:
Rocks
Paint
Glue
Pasta letters
Paper place cards are too boring. Make it fun with colorful rocks. It's good not only for Thanksgiving but also for any dinner or party.
7.Glittery Turkey Treat Pots
Supplies:
cardstock
pencil + scissors
Mod Podge + foam brush
mini plastic pumpkin pail or small plastic bowl
glitter
waxed paper
hot glue gun
Add glitter to the plastic bowl using Mod Podge. Cut out feathers and make them sparky! Glue it all to the bowl and enjoy the result of your crafts.